Torque Flat Track series – exciting night time race thrills crowd!
Date posted on September 9, 2016
Share this
Torque Flat Track Series is now underway!
The launch of the much awaited Torque Flat track series proved to be a successful one as the 1st leg drew a sizable amount of participants and spectators in a unique and exciting night time flat track race at the Motorcycle Messiah Fairgrounds in Taytay, Rizal last September 7.
As early as 5 pm, trial runs were done by the participants before the start of the race proper in order to familiarize them with the track and the road condition. After a short burst of rain in Taytay, it was time to begin the event and the rain and now slightly muddy course only added to the excitement in the night race. Several categories were in store for the participants and fans who watched the event. Among the categories were the all underbone race, scooter class, mini bikes for both adults and kids, Yamaha XTZ one make race, Yamaha XTZ ladies class, Yamaha PW50, among others. Dual sport, backbone, Ducati Scrambler and BMW adventure bikes were also seen on the customized Torque flat track strutting their stuff in this inaugural event. There was also a special exhibition of the Ducati Scrambler – the bike that you could use on road or even on a surface similar to the track we had.
The main event of the Premier Class proved to be a treat for the fans who were in the venue as none other than the greatest of all time – multi-titled motorcross legend Glenn Aguilar came in to support the race. He battled the likes of several motorcycle stars such as Intermediate class Superbike champion TJ Alberto and top racer Troy Alberto for the top spot in his category. In the end, Aguilar was on top once again as he bagged first place in the Premier Class. His son McLean Aguilar came in 2nd while TJ Alberto took the 3rd spot.
It was an exciting event and a unique type of initiative that would unite bike enthusiasts regardless of bike type, engine displacements, and even club affiliations.
So come and join a different kind of WEDNESDAY BIKE NIGHT!!! ONLY THIS September!
Want some intimate, cheap and fun racing? Be part of the show!
Get ready to fall in love! Night Flat Track Racing starts this September! Experience the romance,intimacy and joy of motorcycle racing!
The Torque Flat Track series will run on ALL Wednesdays of September (Sept 7, 14, 21, 28). This is event is supported by Yamaha, Ducati Scrambler, BMW Motorrad, ZENEOS, Wheeltek, Motoworld Philippines and RacingBoy.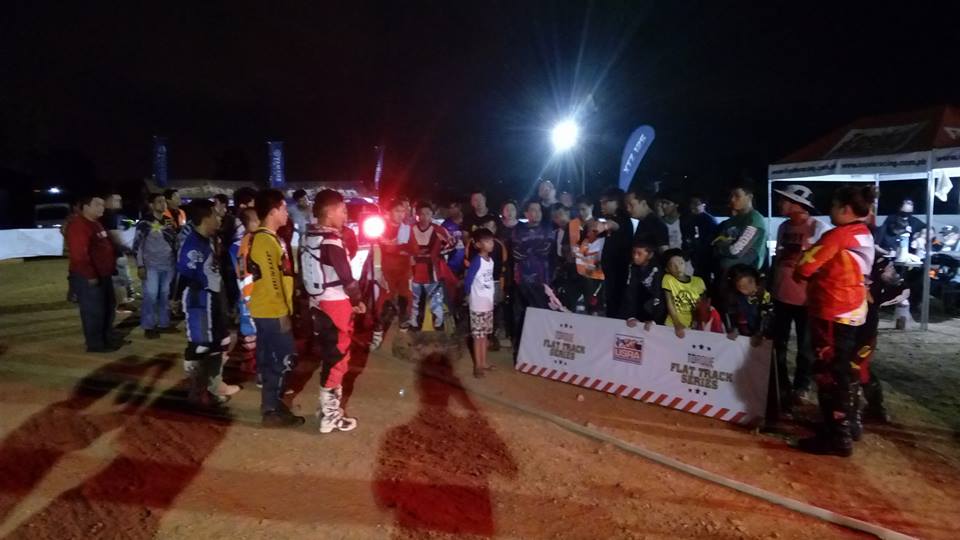 Torque Flat track series presented by InsideRACING riders briefing. Official Practice about to start.
Multitled motocross legend Glenn Aguilar, superbike champions and leaders Toti Alberto and sons TJ and Troy supported the opening of the Night Flat Track Racing organized by Maximum Torque. Mr. Duds Lumague and Mr. Jun Mirasol of USRA are also present to observe the event.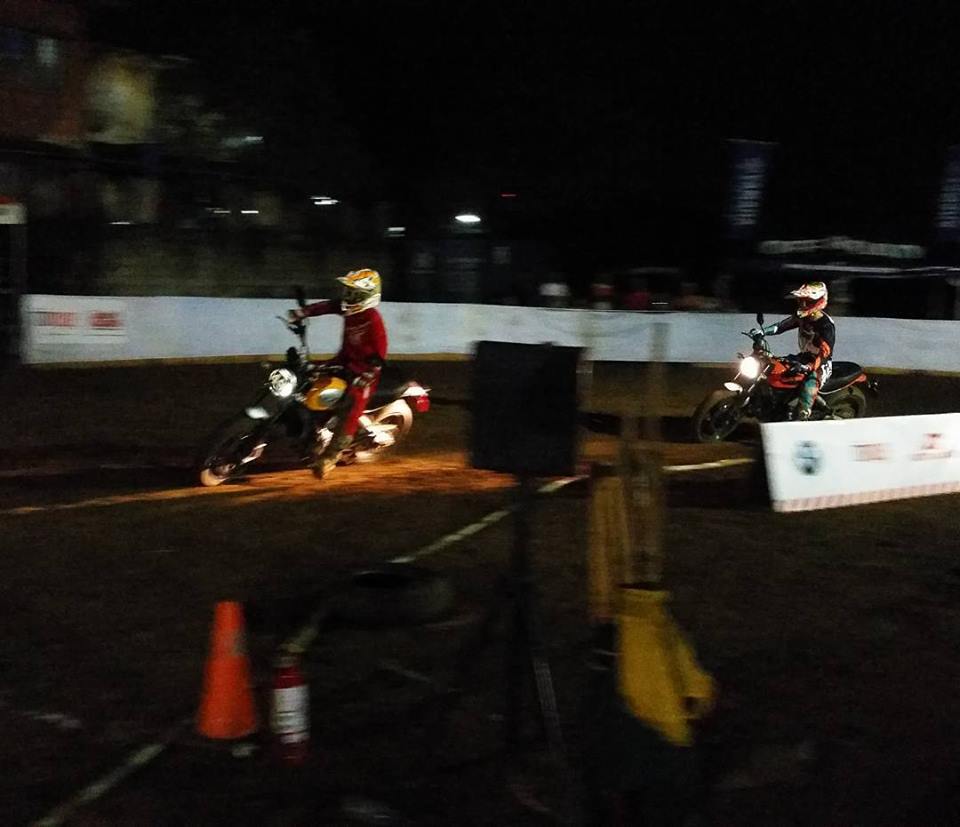 Ducati Scramblers Flat Tracking!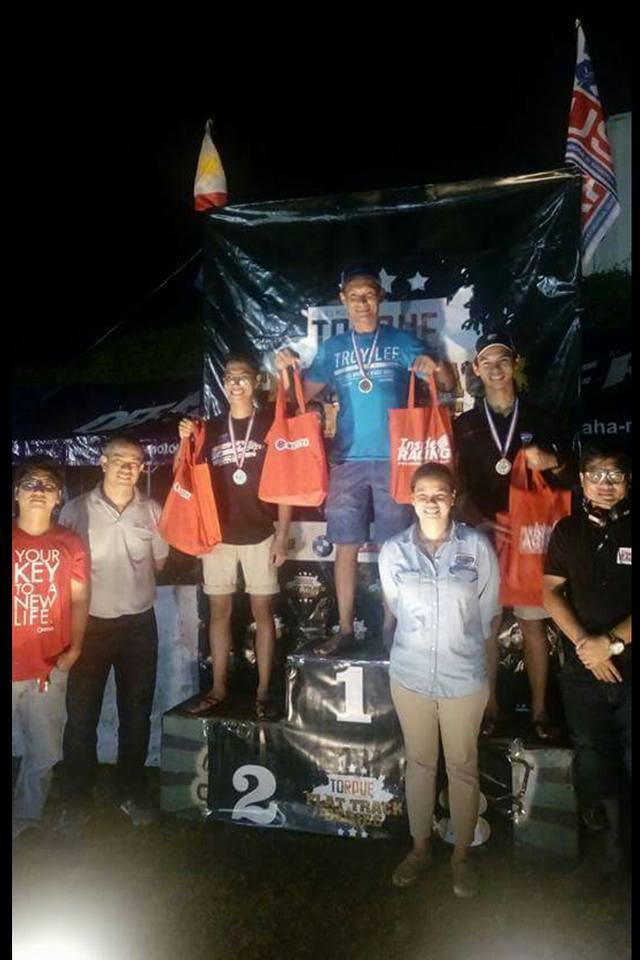 Premier Class – 1st Glenn Aguilar, 2nd Mclean Aguilar, 3rd TJ Alberto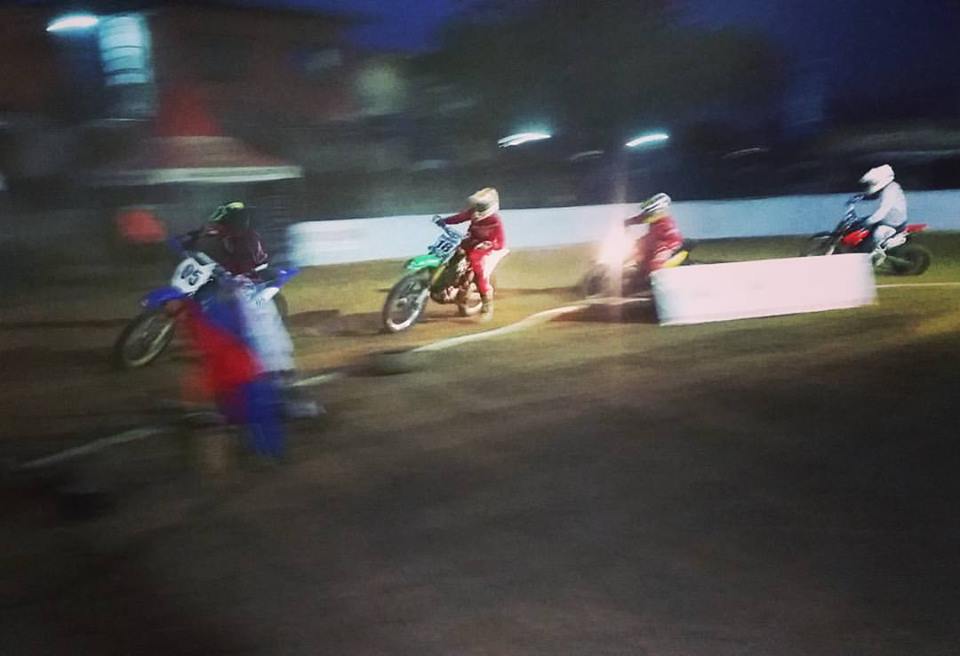 Flat Track night racing!