Torres wins and Lopez is the new 2014 MotoIR Champion!
Date posted on October 8, 2014
Share this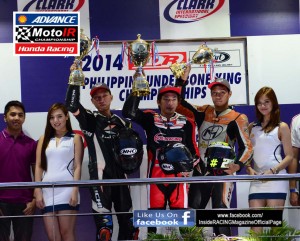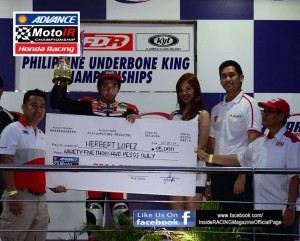 Herbert Lopez of Sum Racing wraps up an impressive racing season by clinching the title in the 2014 Shell Advance MotoIR Championship Presented by Honda. The overall Vice Champion of the thrilling series is 2012 and 2013 champion Rizaldy Canare of NHK-Racewell and the 2nd Runner-up is Honda-MTRT's Paul Mark Doblada.
The final race held on October 5 at the west course of the Clark International Speedway has been a 4-way battle between polesitter Doblada , Canare, Lopez and another Sum Racing rider Ralph Kenneth Torres who is also the Shell Advance Asia Talent Cup Philippine representative for 2013.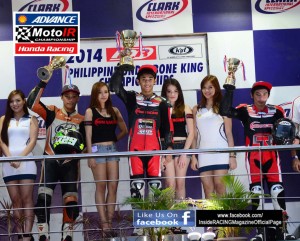 In the end of the 11-lap race, it was Torres who took the checkered flag followed closely by Doblada, Lopez and Canare. NHK-Racewell's Vrei-ar Suba finished fourth. Despite his third place finish Lopez was declared as the champion after 9 rounds wherein he won four legs.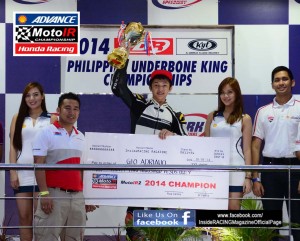 Team EGV-Oblong Racing's Gio Adriano champed in the MotoIR2 class which he has been dominating since the season opener. Adriano won in the final race and got a total of 8 wins out of 9 rounds. 2nd overall in the MotoIR2 class is Robert Matthew Ramos of Honda-MTRT and 2013 champion Juver Mirasol of Team JM Mirasol was third overall. Robert Matthew Ramos was also awarded the MotoIR Top Youth rider.
Lopez received a total of P95,000 for winning the championship while Canare took home P44,500 and  Dobalda got P37,500. Meanwhile MotoIR2 champion Adriano received a total of P32,000 and Ramos received P27,000. More than P320,000 were awarded to the top 10 riders in the MotoIR Championhips for 2014.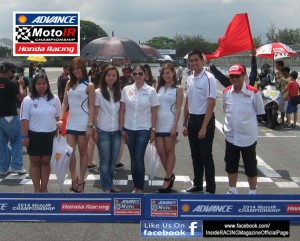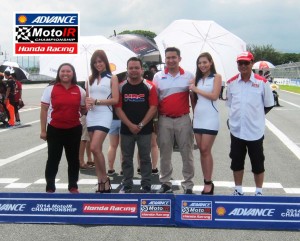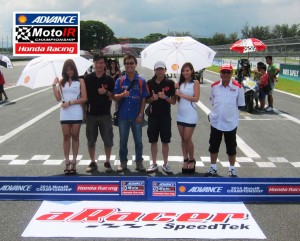 The 9-race 2014 Shell Advance MotoIR Championship Presented by Honda is also supported by Racing Boy, FDR, Bridgestone ,Vee Rubber and aRacer.Now on its third season, the championship is organized by InsideRACING and sanctioned by the Unified Sports and Racing Association (USRA) for Motorcycles, Inc. The final race will be on Oct 5 at the Clark International Speedway.
More detailed reports and photos to follow in InsideRACING magazine.