TOTI ALBERTO TAKES CHECKERED FLAG WHILE JC VILLANUEVA GOT THE FASTEST LAP TIME IN DUCATI CUP'S FOURTH ROUND
Date posted on August 18, 2015
Share this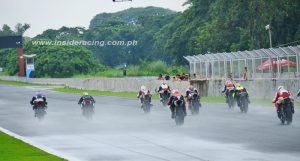 The 2015 Ducati Cup Powered by Bacchus Energy Drink had its fourth leg last July 9 and Toti Alberto once again dominated the race that featured Beginner, Sub 1000, Novice, Intermediate, Master, Legend, Open and Naked classes.
Ducati riders with their high-end Italian bikes had a good competition with each other at the Clark International Speedway. Toti Alberto finished first overall and won the Open and Master classes.


RG Romero took  the victory in the Beginner group while Kenneth Avendaño was triumphant in the Sub 1000 category.
Jay Carrion was the winner in the Intermediate class, Gerald Aycardo clinched the Legend category and JC Villanueva was the top Novice rider. Villanueva  also had the fastest lap time among the Ducati Cup participants in that race. Robi Tanyag ruled in the Naked class.