UBK Rd. 4: VILLANUEVA WINS FOR THE FIRST TIME WHILE INGUITO TAKES HIS THIRD CONSECUTIVE VICTORY
Date posted on August 18, 2015
Share this
The 115cc Novice and main 150cc Open categories of the FDR Philippine Underbone King Championships held its fourth round and used the full track of the Clark International Speedway last August 9.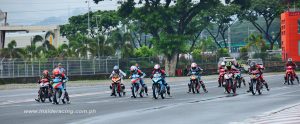 Lorenz Villanueva of Team Liqui Moly-YY Pang-RK-Nibbi was the victor of the 115cc Novice class. It was the first win for Villanueva after being a runner-up from the first three legs. Villanueva's teammate James Aeron Amporias finished second and Maiko Adapon settled for third place. In the point standings, Adapon is still on top with 88 points while Villanueva is only one point behind with 87 and Amporias has 82 points.

Team Yamaha-Spec V had a good showing in the main 150cc Open class of the UBK with John Emerson Inguito and James Mendez securing the first and second place. Sum Racing's Herbert Lopez finished third. This was Inguito's third straight win after finishing second in the first leg and he rules in the point standings so far with 97 points. Lopez has 83 while Mendez has 80 points after four rounds.

The 2015 FDR Philippine Underbone King Championships is sanctioned by the Unified Sports and Racing Association (USRA), for Motorcycles Inc., a member of the Federation of Two Wheels Association of the Philippines (FETAP). The fifth leg is on September 6 at the Batangas Racing Circuit.