Updated Travel Guidelines for Baguio City
Date posted on March 19, 2021
Share this
Due to the spike in cases, Baguio tourists again needs to present a negative RT-PCR test within 72 hours of travel starting today. 
From the Baguio Tourism, effective March 19, 2021, subject to revisions when necessary.
Follow 3 requirements:
– Create an account (or use your existing account) and schedule a visit at https://visita.baguio.gov.ph. Secure QTP after registration.
– Have a negative COVID-19 RT-PCR or Antigen test within 72hours prior to arrival. Or as an option, have a test at the triage upon arrival.
– Undergo triage upon arrival.
IMPORTANT:
– Register and have your QTP at least 24 hours before travel. No QTP = No Entry!
– Limit of tourists is up to 3,000 per day through a reservation system. If time slot or date is already blocked, limit is already reached.
– If to be found symptomatic or will have a positive Ag test result at the triage, you may be refused entry or referred to nearest heath facility.
– Strictly observe city health and safety standards and protocols and follow local ordinances.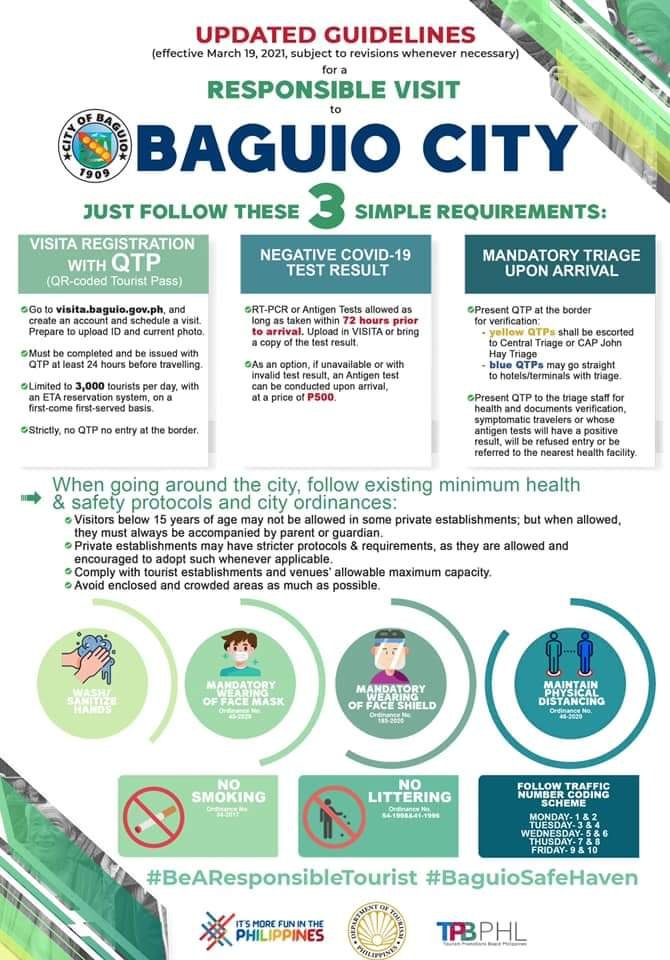 Source:
https://www.facebook.com/325190721363838/posts/860990921117146/