Valencia and Yamaha Riders Dominate Super Scooter Race in Davao
Date posted on May 18, 2016
Share this
Yamaha-Spec V rider Aljon Valencia led the Super Scooter class from start to finish at the first round of the Shell Advance Super Series Nationwide Championships in Davao City last May 7 held in conjunction with the opening of The Racing Line's Regional Underbone Grand Prix (RUGP).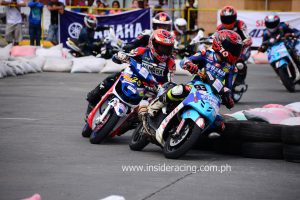 Valencia from Luzon was joined in the podium by two riders from Mindanao – Vingie Coloma who finished second and Dan Carlos who secured the third place in the 12-lap race. Both Coloma and Carlos are racing for Yamaha MW 323 team. The Super Scooter class is battled by top scooter riders all over the country on board powerful scooter race bikes.

The Super Series is the first ever nationwide championship that gathers the best racers in Luzon, Visayas in Mindanao in a 7-leg series held in different racetracks and street tracks. It is presented by Shell Advance which is also the official motor oil of the series. The Super Series is organized by InsideRACING and The Racing Line. Race chairmen are Mr. Al Camba of InsideRACING which organizes the IRGP and IR Cup and Mr. Jong Uy of the Racing Line. The series is sanctioned by the Unified Sports and Racing Association for Motorcycles, Inc. (USRA). Mr. Duds Lumague, President of USRA, was present during the inaugural and historical first round of the Super Series which is supported by Shell Advance, Yamaha, Suzuki and FDR.

The second round of the Shell Advance Super Series is on May 22 at the Clark International Speedway in Pampanga during the first round of the IR Cup.