VALENCIA, GODOY AND MAURICIO STOOD OUT
Date posted on July 14, 2015
Share this
Last July 5, the 130cc, 160cc and 180cc classes of the third round of the FDR Philippine Scooter Racing Championships all ran together in a west course an 8-lap race at the Clark International Speedway.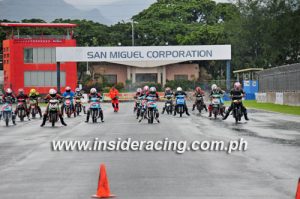 Gian Carlo Mauricio topped the 130cc category. Maiko Adapon finished second and female rider Justinne Bethany Tolentino took the third place. It was still Adapon, however who leads the point standings with 67 points. Mauricio was second with 50.

In the 160cc class, John Edward Godoy of Rider55-MLW-MTRT emerged triumphant again just like in the second round. Godoy managed to withstand the pressure from second placer Danes Sarmiento. Jacob Navarro grabbed the third place. With 72 points after 3 rounds, Godoy is on top of the standings of the 160cc group. Sarmiento has 70 while Navarro has 57 points so far.

Aljon Valencia once again delivered victory for Team Yamaha-Spec V in the main 180cc class of the PSR.  Valencia also registered the fastest lap time for scooters that day. Dustin Esguerra of Zebra-Pertua-MLW-MTRT crossed the finish line second while John Emerson Inguito who also rides from Spec V finished third. In the point standings, Valencia is the leader so far with 70 points his teammates Inguito and James Mendez have 67 and 58 points respectively. Esguerra got 56 points.

The 2015 Philippine Scooter Racing Championships is sanctioned by USRA and sponsored by FDR Tires.