WATANABE PREVAILS IN THREE-WAY FIGHT IN THE RAIN
Date posted on July 18, 2015
Share this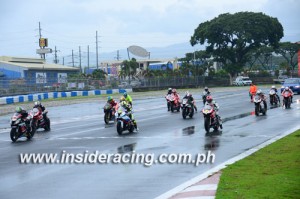 The best superbike riders in the country clashed once again in the third leg of the Pirelli Philippine Superbike Championships last July 5 at the Clark International Speedway. It was an 8-lap  exciting wet race that featured Expert, Novice, Intermediate and Master classes and Motorad-WRD-Kawasaki rider Dashi Watanabe won after a tough fight for the checkered flag.
Watanabe in pole position took the holeshot of the race. Going into the second lap, the lead was taken by Ducati Philippines' Raniel Resuello and a lap later, it was BMW Motorrad-HGM rider Marvin Mangulabnan who led the pack. Watanabe snatched the lead again in Lap 4, overtaking both Resuello and Mangulabnan at the 6th corner of the CIS track.


Watanabe, the defending back-to-back national superbike champion, eventually won the race and topped the Expert class and once again posted the fastest lap time, clocking in 2:05.044s in Lap 6. Mangulabnan delivered a second place finish for BMW Motorrad while Resuello finished third in the Expert group.
TJ Alberto of Ducati Philippines bagged two wins as he was the first placer both in the Intermediate and Novice categories. Alberto was also part of the lead pack in the first half of the race. His father Toti was the winner of the Master class and 4th placer in the Expert division.
Paul Mark Doblada did well in his maiden superbike race, finishing second in the Intermediate class and third in the Novice group. Doblada races for Ducati Philippines.
After three rounds, Resuello still leads in the Rider of the Year and Expert class standings having 67  points. Watanabe was second in the Expert category so far with 66 points and third in the Rider of the Year ranking with 52 behind Mangulabnan who has 64. The BMW Motorrad-HGM rider is currently third in the Expert standings with 64 points.
In the Novice class, current leader is second placer Masato Fernando of Spec V with 62 points with TJ Alberto second so far having 50 points. In the Intermediate division, TJ is the leader, 10 points ahead of Jevis Aguila, Lawrence Macalinao and Ralph Kenneth Torres who all have 40 points.
Toti Alberto is on top of the Master class standings with 69 while John Defensor has 54.
The 2015 Pirelli Philippine Superbike Championships is sanctioned by the Superbike Racing Association.