Wheeltek Delights Motorcycle Enthusiasts at the 12th IR Bike Fest
Date posted on April 6, 2018
Share this
Wheeltek Motor Sales Corporation has been in the business of selling motorcycles for 43 years now. The company offers both big and small displacement motorcycles and has more than 200 branches nationwide. They also have 12 big bike stores. Wheeltek carries the brands Honda, Kawasaki, KTM, Suzuki, Yamaha and TVS and is one of the top dealer networks in the Philippines.
Here are some of the highlights of Wheeltkek's participation at the 12th InsideRACING Bike Festival and Trade Show held at the World Trade Center last March 23-25.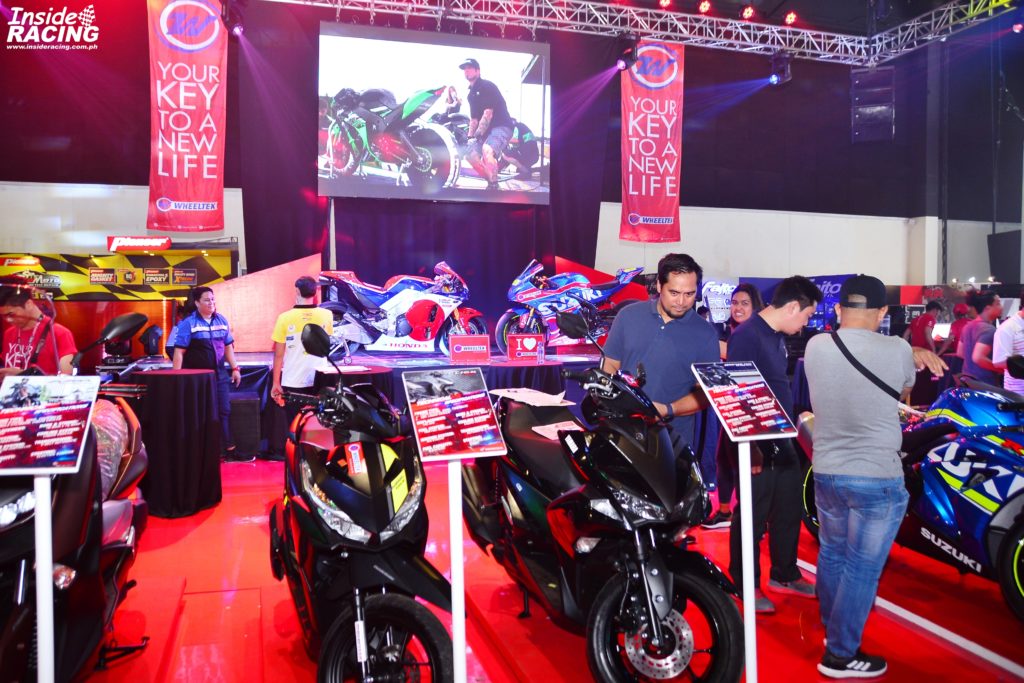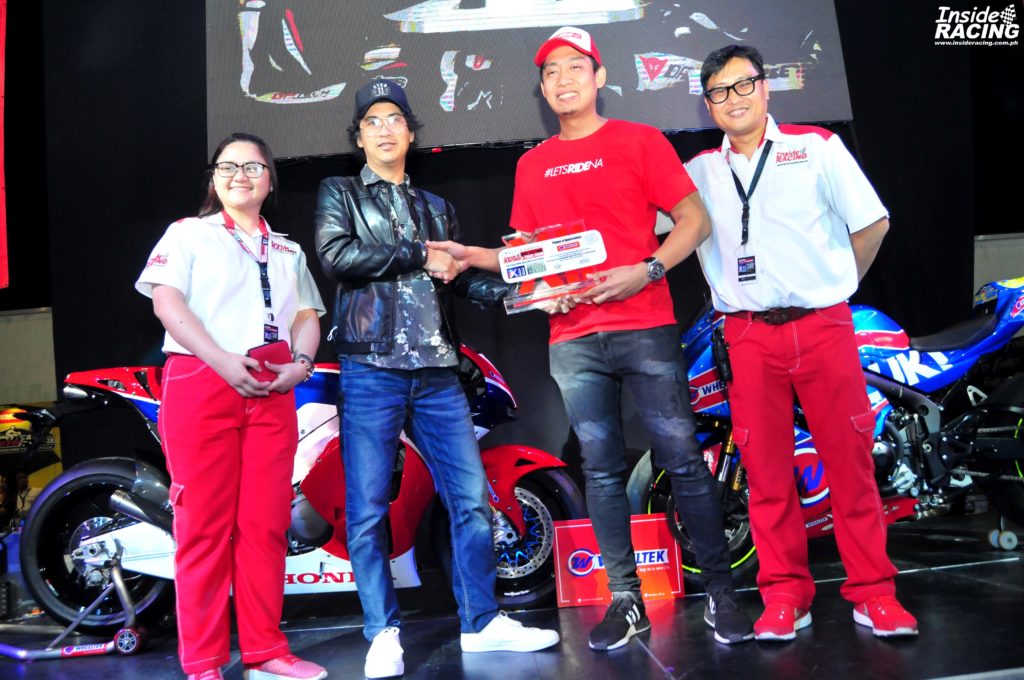 #LETSRIDENA
See that doctor who just slithered his way through traffic with his motorcycle just so he can get to his patients on time? How about that lawyer who's able to do pro bono work because he saves a lot of money by riding his motorcycle, not his car? Heard about the cool priest who rides his motorcycle to his parish? You see, everybody can be a motorcyclist. And in these trying times, where gas prices are like motorcycle transmissions – 1 down & 5 up, EVERYBODY should be one!
Gone are the days of profiling a motorcyclist as a gang member or a snatcher. Nowadays, being a motorcycle rider is a way of avoiding inconvenience, a way of saving money, a way of life.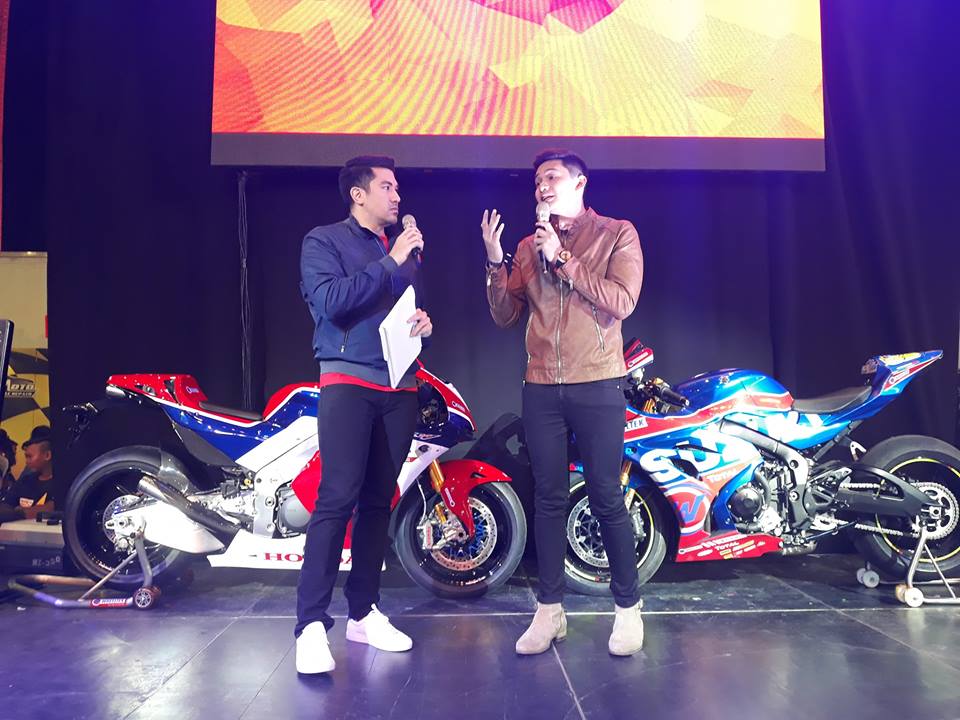 #LETSRIDENA is Wheeltek's newest campaign where they show why everybody should be riding a motorcycle. Traffic? Motorcycle! . . . Sky-rocketing fuel prices? Motorcycle! . . . Inconvenient public commute? Motorcycle! . . . Late? You guessed it, motorcycle! Yes, almost all the everyday woes of the Filipino commuter can be solved by a motorcycle. It's economical, fast and most of all, fun!
The campaign was launched at the 12th InsideRACING Bike Festival and Trade Show and spearheaded by Wheeltek brand ambassadors Luis Manzano, Ruru Madrid and Dominic Roque along with the dozens of other Wheeltek personnel, friends, guests, media and the thousands of attendance in the show. Lots of the red shirt with a white hashtag #LETSRIDENA were given away to the audience as part of the fun games conducted in the massive Wheeltek booth.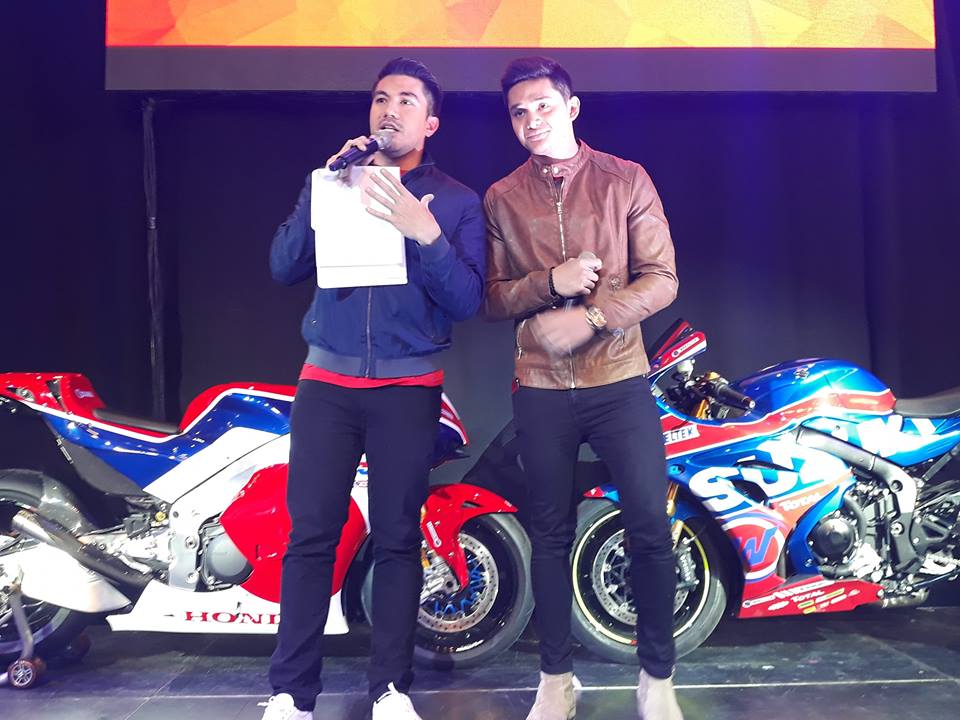 Watch out for the Wheeltek website and FB page as we show you why you should already be twisting the throttle, enjoying the comfort of riding and not being late to work or school. Let's ride na!
Wheeltek Launches the Honda RC213V-S
There are high-end bikes and there is a top-end bike. It's deemed as the "ultimate" motorcycle because it's the stuff every motorcyclists' dreams are made off; pure bred performance racing machine. It is the motorcycle that every motorcycle wants to be when they grow up. It's the Honda RC213V-S.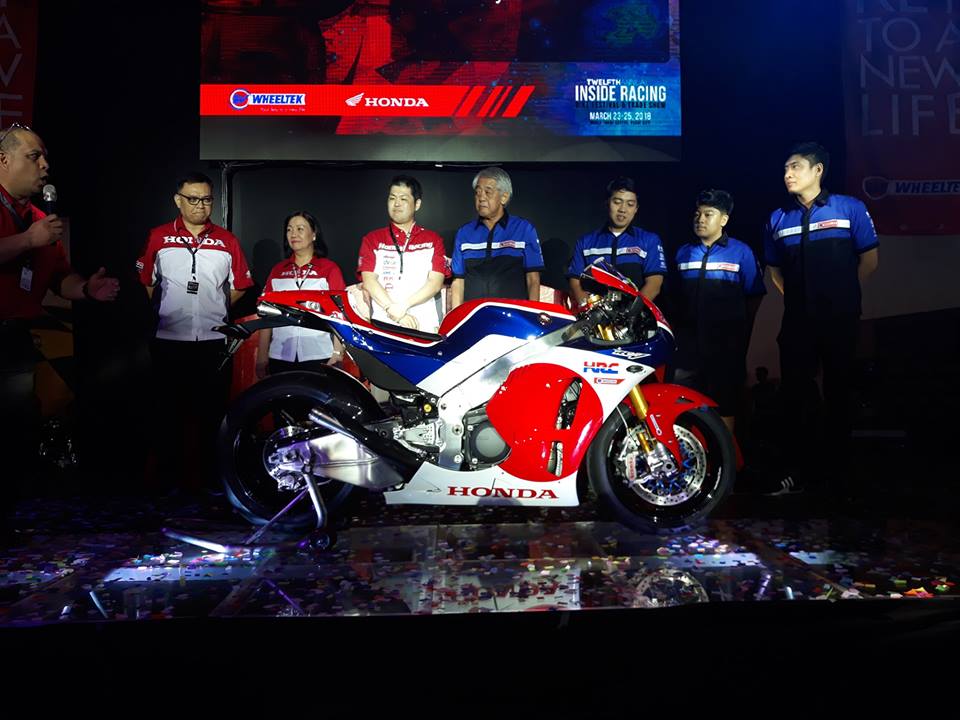 What's in a Name?
The –S in the name indicates that it's a street-legal bike. Weird to think as it is, the RC213V-S is really a MotoGP bike with added accessories to make it legal to use on the road, side mirrors, lights, etc. It doesn't just look like a race bike, IT IS a race bike! It is the real deal and the closest thing you can get to actually going to a MotoGP race and meeting the racers themselves. The RC is Honda's naming tradition in their race bikes. The 213 means 3rd works (version) bike of the 21st century, and the V is for the engine configuration.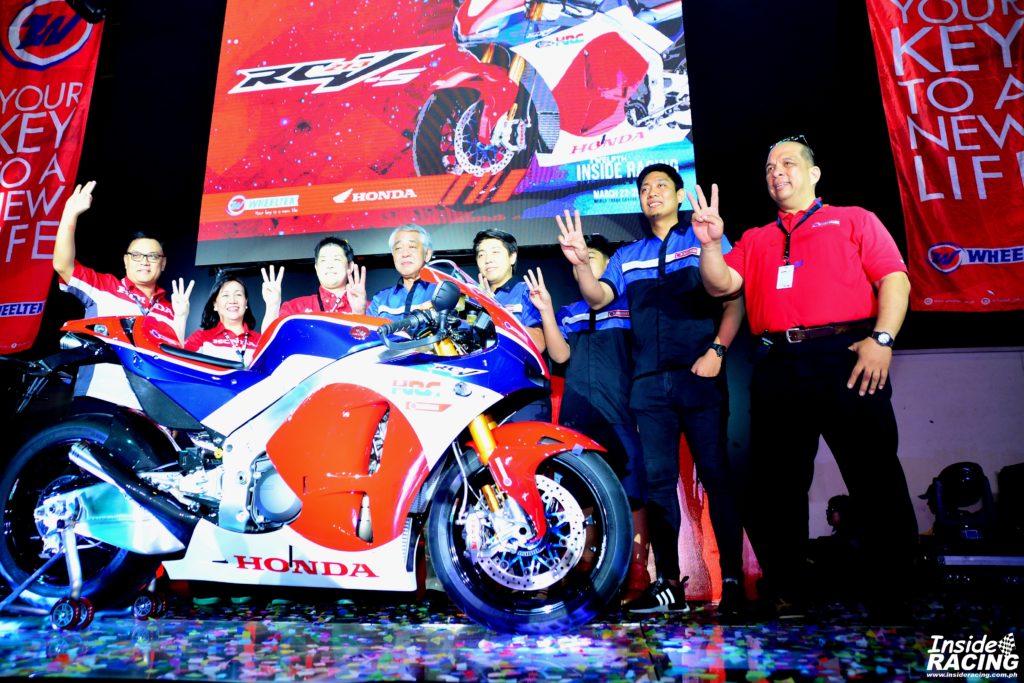 Best of the best
This is the best motorcycle money could ever buy. There are no price tags for this kind of bike but the estimated amount is a whopping more than P20 million, all in all. A seemingly fair price for the fastest bike with the best handling on the track. It is a winning bike used by world champions Marc Marquez, Dani Pedrosa and Casey Stoner, just some of the best and fastest MotoGP racers. And even if you have the money, there's no assurance you could ever buy one. There are only 200 units produced in the world and they are all hand-made. This RC213V-S is the only one in the country.
Specs:
Engine: fuel-injected, V4, 4-stroke, DOHC, 4-valve, liquid-cooled, 999cc
Max Power: 159hp @ 11,000rpm / 215hp (with kit)
Max Torque: 102nm @10,500rpm / 118nm (with kit)
Dimensions: 2100mmL x 790mmW x 1120mmH
Clearance: 120mm
Seat: 830mm
Dry Weight: 170kg / 160kg (with kit)
Fuel capacity: 16liters
Unfinished Business
Maico Buncio was the best, fastest and most charismatic racer the country has ever produced. And that is uncontestable. He was poised to take racing to a higher level when a freak accident ended his dream, and his life. Thousands have mourned the death of the young gunner and the country's hope of sending a competent rider to the international racing scene has vanished.
Years after that fateful day, another Buncio is going to continue that legacy. Jacqueline Buncio is the youngest sister of Maico, and daughter to another racing luminary Gregorio "Yoyong" Buncio. She is the newest racer to carry on the name Buncio to the racing community.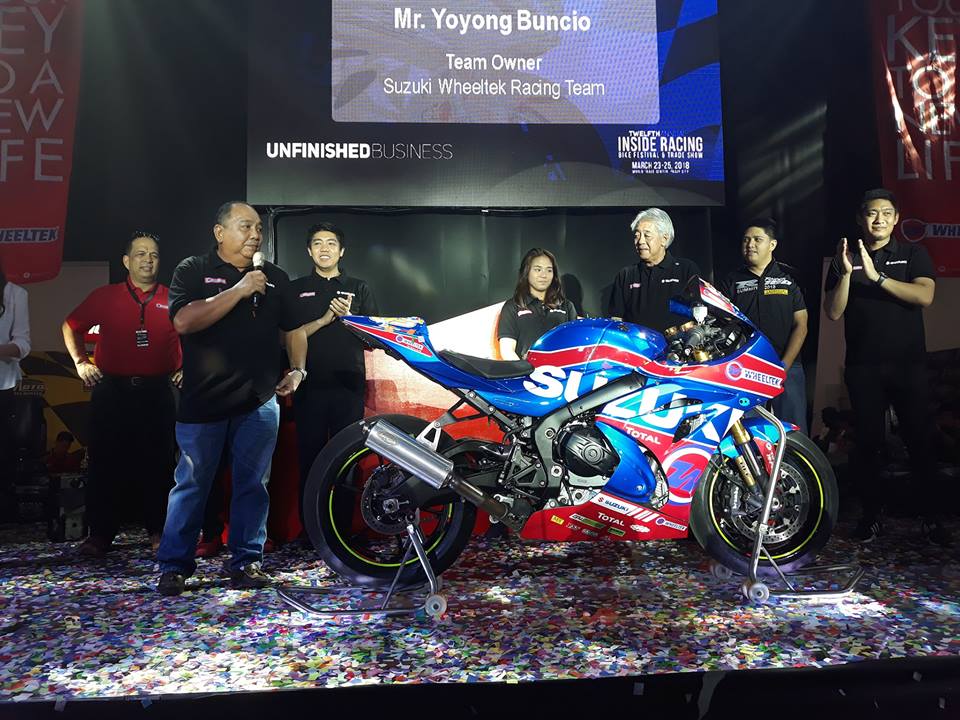 "My dad enrolled me in swimming, ballet and figure skating, just so I can take my mind off motorcycle racing", said Jacq in her press con, but the 17-year old lady is not to be stopped. Even when Maico was still alive, racing was a big no-no for the Buncio sisters (the other one is Des Buncio, also a racer). He didn't want his sisters to be scraped and scarred. But racing seems to be in their blood. Now, Jacq has found herself two of the biggest names in the motorcycling industry as her sponsors: Wheeltek Motor Sales Corporation and Suzuki Philippines.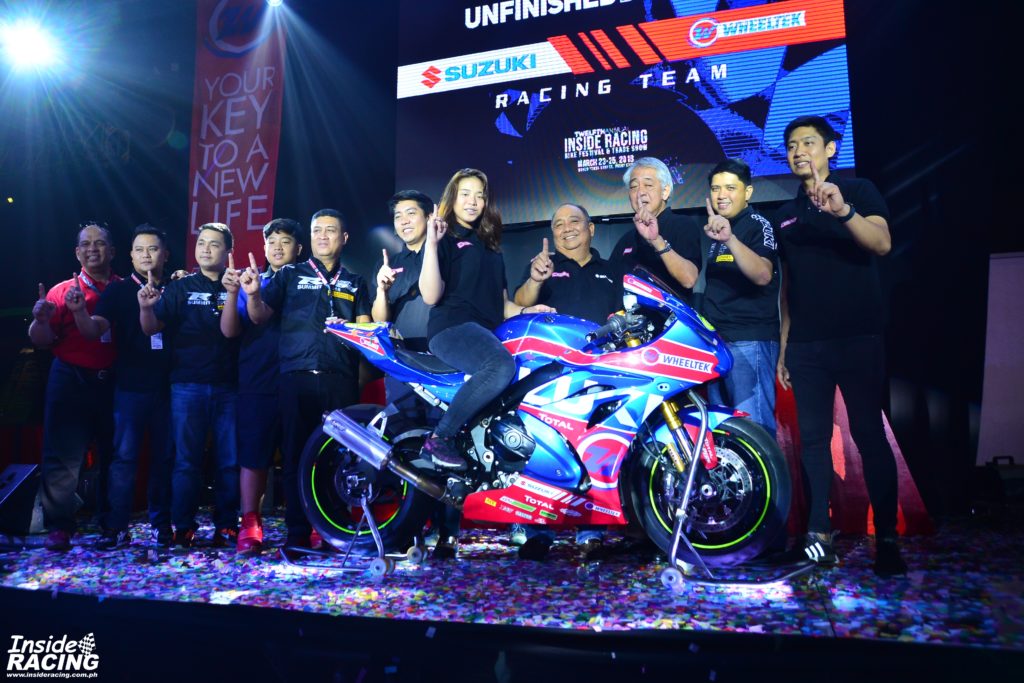 Jacq has chosen the "powerful and stable" Suzuki GSX-R1000R as her weapon of choice for this year's races. Her father commented that the bike is so well suited for Jacq and her racing style. The official name of this conglomeration is Suzuki-Wheeltek Racing Team and has Yoyong Buncio at the helm as the team manager.
"Our families have been very close from the start," recalls Mr. Roscoe Odulio, VP of Wheeltek referring to the Buncios as he recalls buying his very first helmet from Ka Yoyong. They have been riding buddies for a long time and it's all about relationship, which is one of the biggest factors in this sponsorship deal. But not only because of that long-time relations, Mr. Odulio has seen the potential of Jacq as a racer.
Jacq Buncio will be racing in the 6 leg races of the Pirelli SBK starting on April 21, 2018. Watch all her races and witness how the story unfolds of how the Buncios and Suzuki will once again try to reign supreme in the race track with the help of Wheeltek.
Open Forum with Joey Rivero and Mel Aquino
With the intent of reaching and teaching more people on how to properly ride a motorcycle, circuit racer Joey Rivero and off-roading coach Mel Aquino have conducted an open forum in the Wheeltek booth at the 12th InsideRACING Bike Festival and Trade Show. They have answered questions thrown at them by the inquiring public and the two are more than game to give their insight on what proper riding is all about.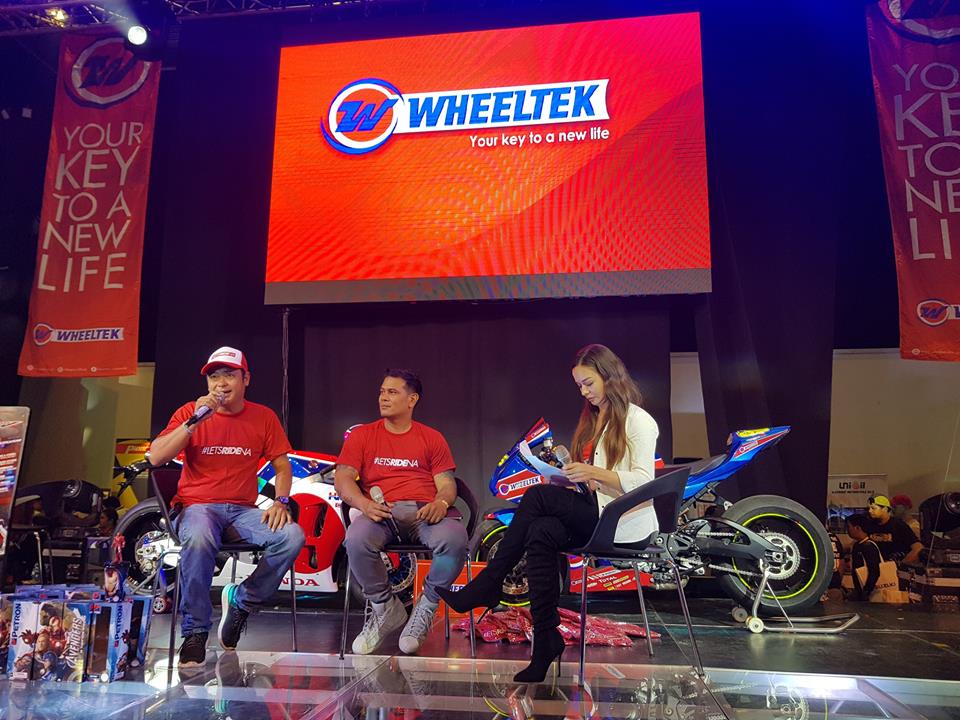 While Joey handled all the circuit-related questions, Mel shared his experiences as a veteran motocross racer. "It's all about riding posture. If you get all the correct riding posture, you're getting there".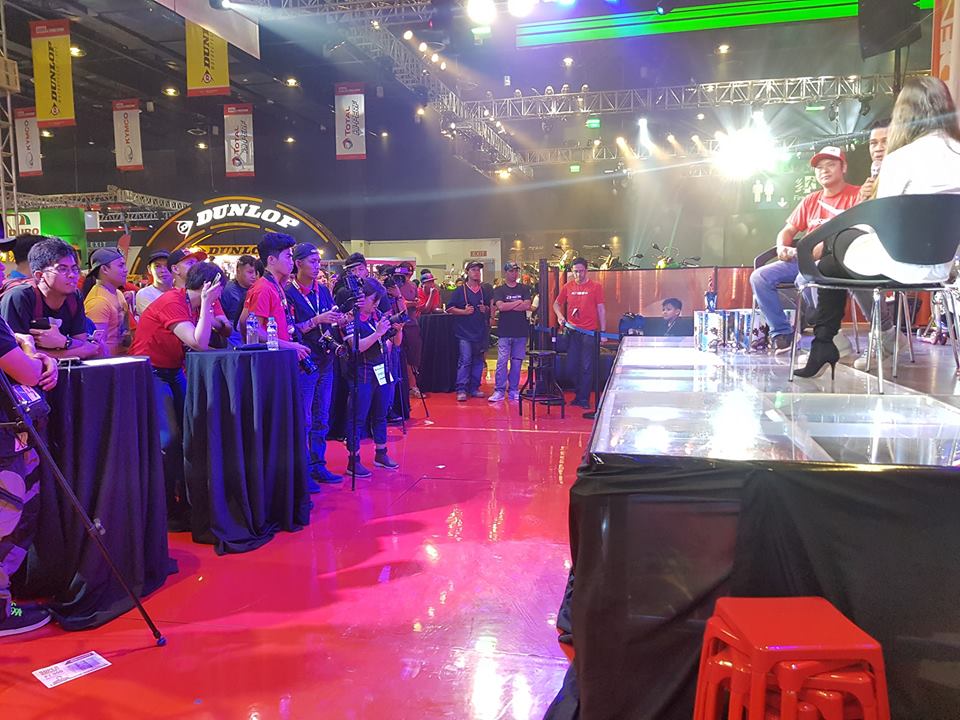 In line with this Talk To The Experts open forum, Wheeltek, in partnership with the brands that they carry, will be conducting Learn To Ride programs all around the Greater Manila Area, as part of their advocacy to teach the public not only on how to use a motorcycle, but also how to use the road. Those who want to try motorcycling, with or without experience will be given access to free lessons on basic riding and they will be using different bikes from Wheeltek.
Standby for updates about this Wheeltek Learn To Ride program.
Words and some photos by Wheeltek