Wheeltek GP 5 Set at the Carmona Race Track on May 6!
Date posted on April 29, 2018
Share this
Races, track day and test rides are what await motorcycle riders and enthusiasts this May 6, 2018 at the Carmona Race Track in Cavite as Wheeltek will stage the 5th edition of its successful Wheeltek GP. The event is organized by InsideRACING and sanctioned by USRA (Unified Sports and Racing Association for Motorcycles, Inc.).



There will be scooter and underbone categories as well as one-make races. Scooter classes are Scooter 180 (Intermediate and Expert), Scooter 160 Elite (Intermediate and Expert), Scooter 160 (Novice and Beginner) and Scooter 130 (Novice and Beginner). Entrance fee for the scooter class is P1500 (P1,000 registration + P400 insurance +P100 license). The Underbone class has three categories, namely, Expert, Intermediate and Novice & Beginner. P1500 is the entrance fee for the underbone class. There are three one-make races for Novice and Beginner riders and categories are Honda RS150, Suzuki Raider R150 and Yamaha Sniper 150. Minimum safety gears required for those who will join the races are certified full face helmet, leather suit, leather gloves and mid-cut riding boots. Each one-make race has 20 slots only and participants will only have to pay P500 (P400 insurance + P100 license).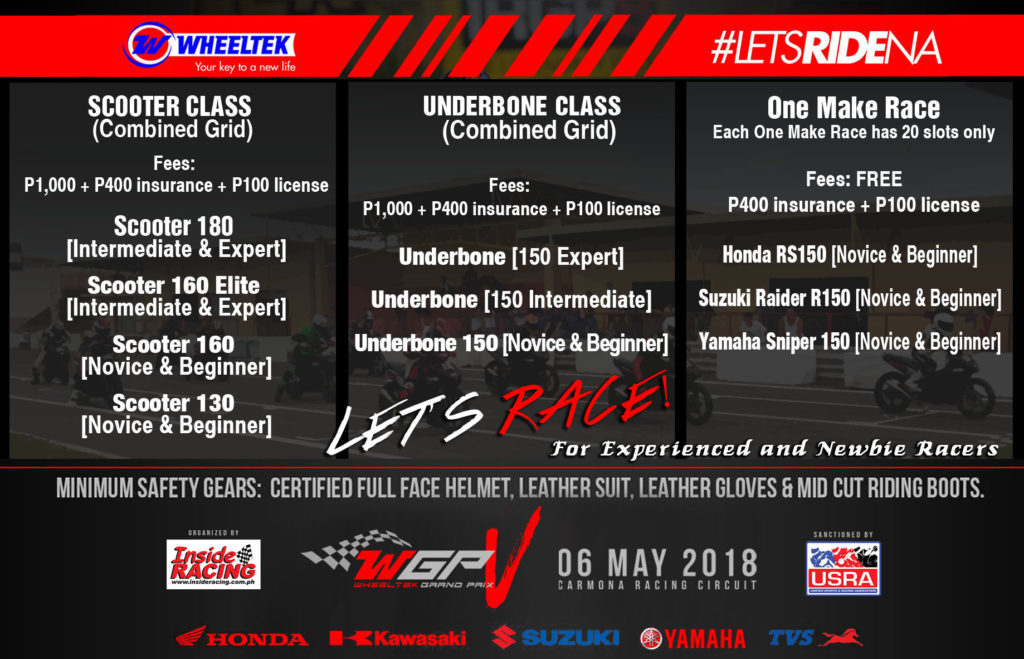 The track day will have sessions for scooters, underbones, Kawasaki and TVS.  Only Honda, Kawasaki, Suzuki, TVS and Yamaha motorcycles are allowed in the scooter and underbone track day and participants must bring their own motorcycle. For the Kawasaki Track Day, those who will participate may also bring their own motorcycle or they may use Rouser 200 and available Kawasaki demo units at the track.  Those who will join the TVS Track Day should also bring their own TVS motorcycle. TVS will also lend Apache 200, XL100, Dazz110 and other available TVS demo units. Minimum safety gears for track day participants are certified full face helmet, long sleeved riding gears, heavy riding pants, full fingered gloves and mid-cut shoes. Those who will bring their own motorcycles must ensure their bikes are in good running condition. The following items will be checked for safety: tires, brakes, throttle operation, steering and control levers (must have ball ends). Side mirrors, headlights, tail lights must be taped. No rear box, side pannier, or accessories that may pose a danger to other riders on the track. P200 is the fee for the track day and paying of the P400 insurance is optional.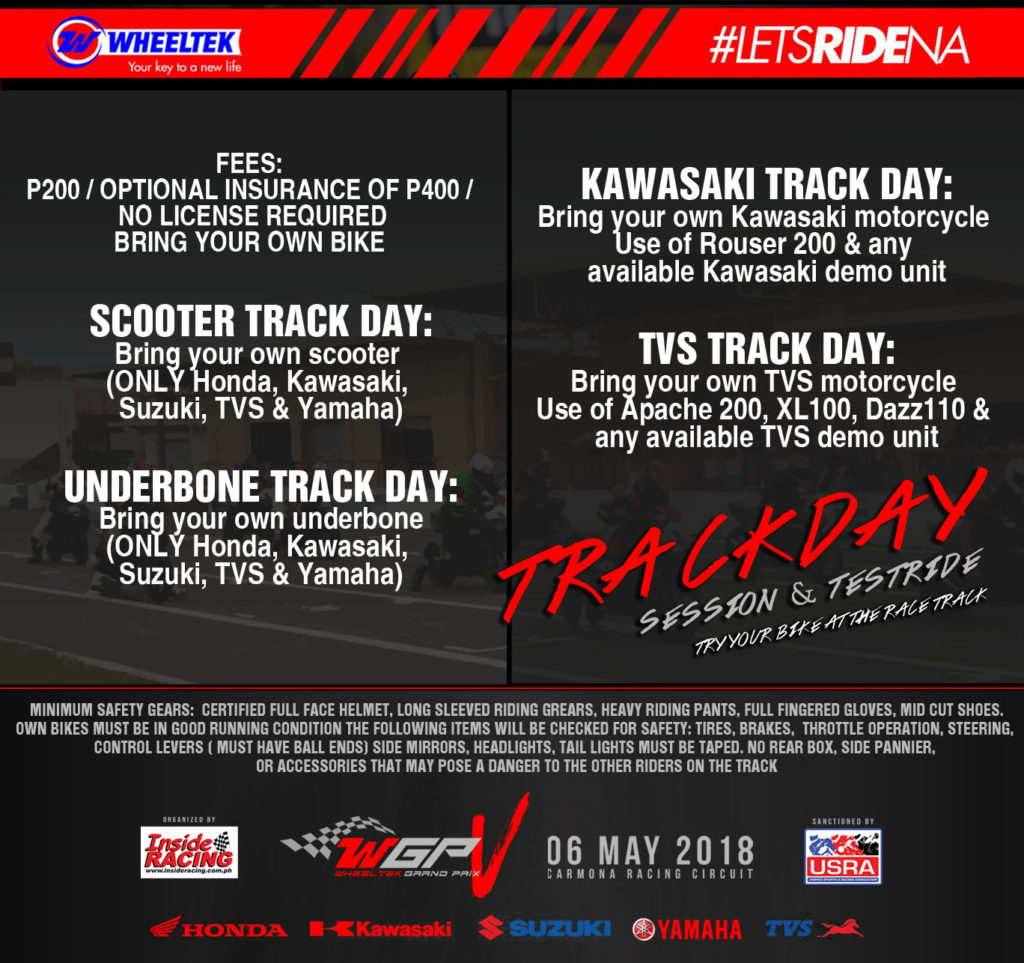 Honda Philippines, Kawasaki Motors Philippines, Suzuki Philippines, TVS, and Yamaha Motor Philippines are supporting Wheeltek GP 5 and aside from the one-make races and track day, they will also display their latest offerings.
Registration for the races and track day starts at 7 in the morning. Trophies and cash prizes will be awarded to winners. For more information about Wheeltek GP 5, check out the Wheeltek Nationwide (Official) facebook page.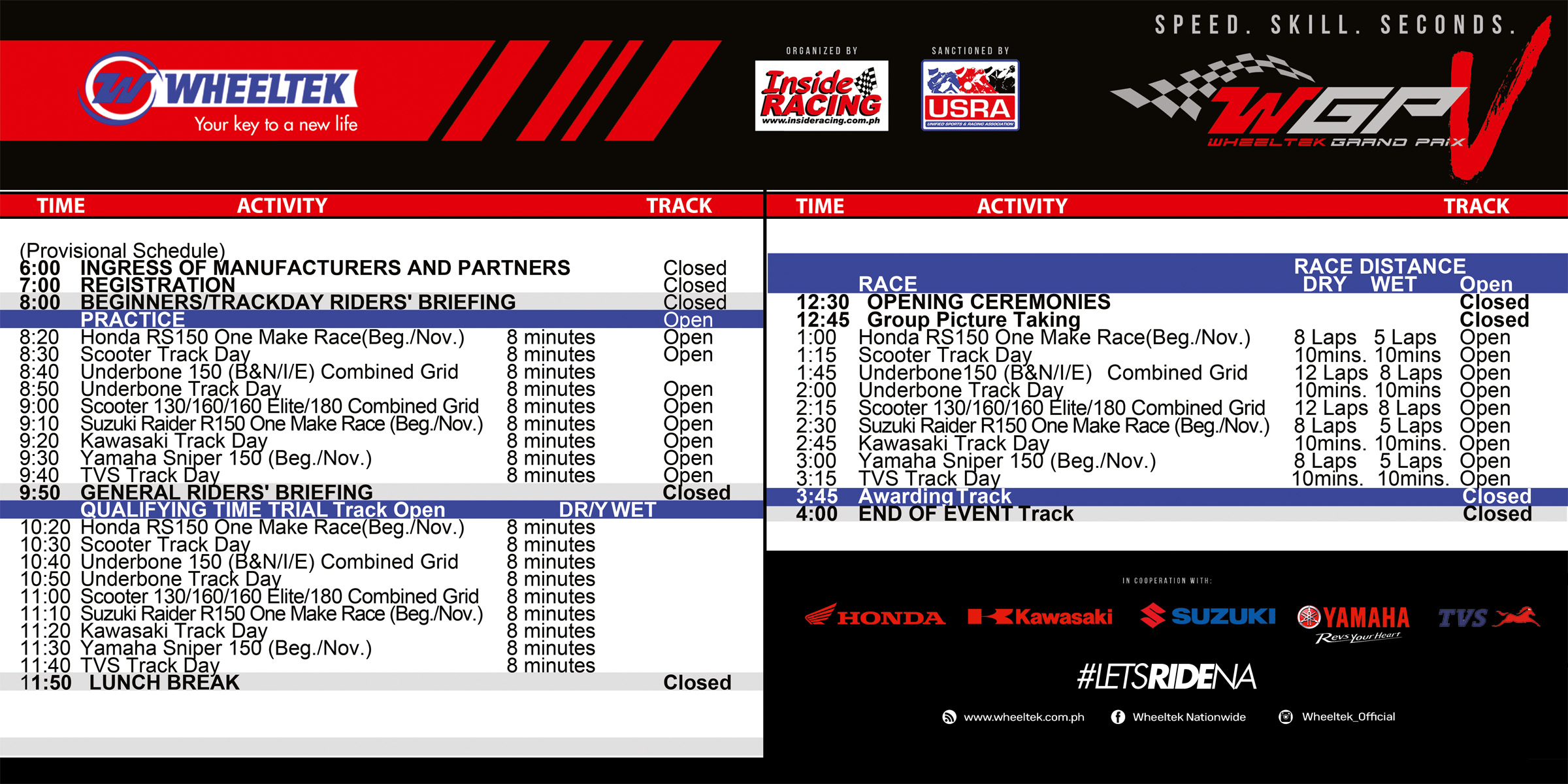 Wheeltek Motor Sales Corporation has been in the business of selling motorcycles for 43 years now. The company offers both big and small displacement motorcycles and has more than 200 branches nationwide. They also have 12 big bike stores allover the country. Wheeltek is one of the top dealer networks in the Philippines.