World Renowned Off-road Coach Chris Birch Will Train Local Adventure Riders
Date posted on January 12, 2019
Share this
With the full initiative of Bikerbox Inc., the official distributor of Mitas Tyres Philippines, it is a strong start this year in promoting off-road riding and skills enhancement for the local ADV communities in the Philippines (Manila and Mindanao).
For the first time in the Philippines, world renowned off-road coach Chris Birch will set foot and train our local Adventure riders.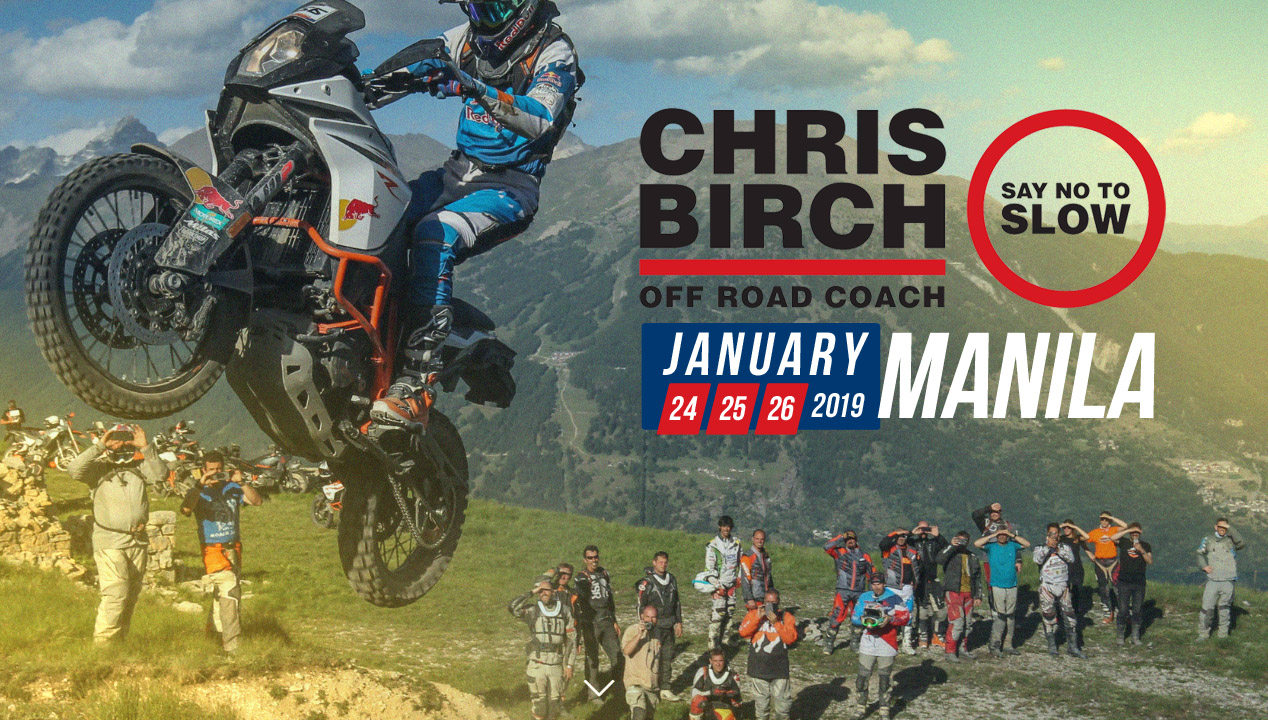 This marks the beginning of more off-road training/clinics for 2019 for the benefit of all local riders in terms of skills enhancement and riding education through Mitas-KRB Offroad Track (Manila) and Mitas-Mindanao Enduro Park (Mindanao/Cagayan De Oro).
Chris Birch is a life-long motorcycle addict. He is the current and eight-time New Zealand Enduro overall champion and three-time Roof of Africa winner. He has been on the podium seven times at Red Bull Romaniacs including winning it in 2010. He has competed successfully in the world's biggest enduro races like Erzberg, Red Bull Last Man Standing, Hells Gate, ISDE, WEC and EEC. Chris is New Zealand's most successful Dakar Rally competitor finishing 27th and second in the rookie class in 2012. Chris has ridden and raced in over thirty countries and has a thirst for adventure. Chris has been in partnership with Red Bull and KTM since 2007.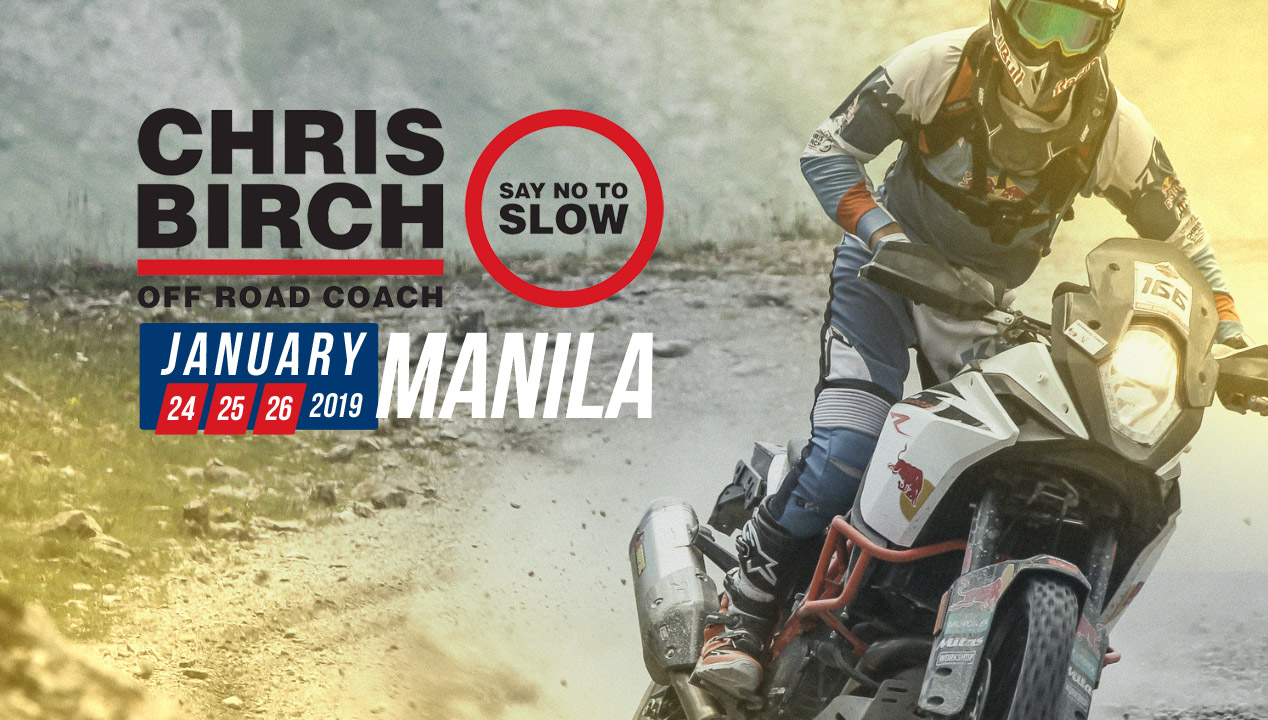 Chris has been teaching off-road skills since 2007, initially as a way to raise funds to compete outside of New Zealand and now runs his coaching business full time. He enjoys passing on his knowledge and techniques learnt from racing around the world and also sharing his enthusiasm and love for riding. Chris's background as a mechanical engineer allows him to break down the physics of riding and describe the techniques in detail. Chris now runs riding clinics for all level of riders, from those who are new to the sport up to experienced racers, and has helped many students to achieve their goals. Chris Birch Off-Road Coaching runs group coaching clinics year-round in New Zealand and Australia and is available to run sessions globally on request.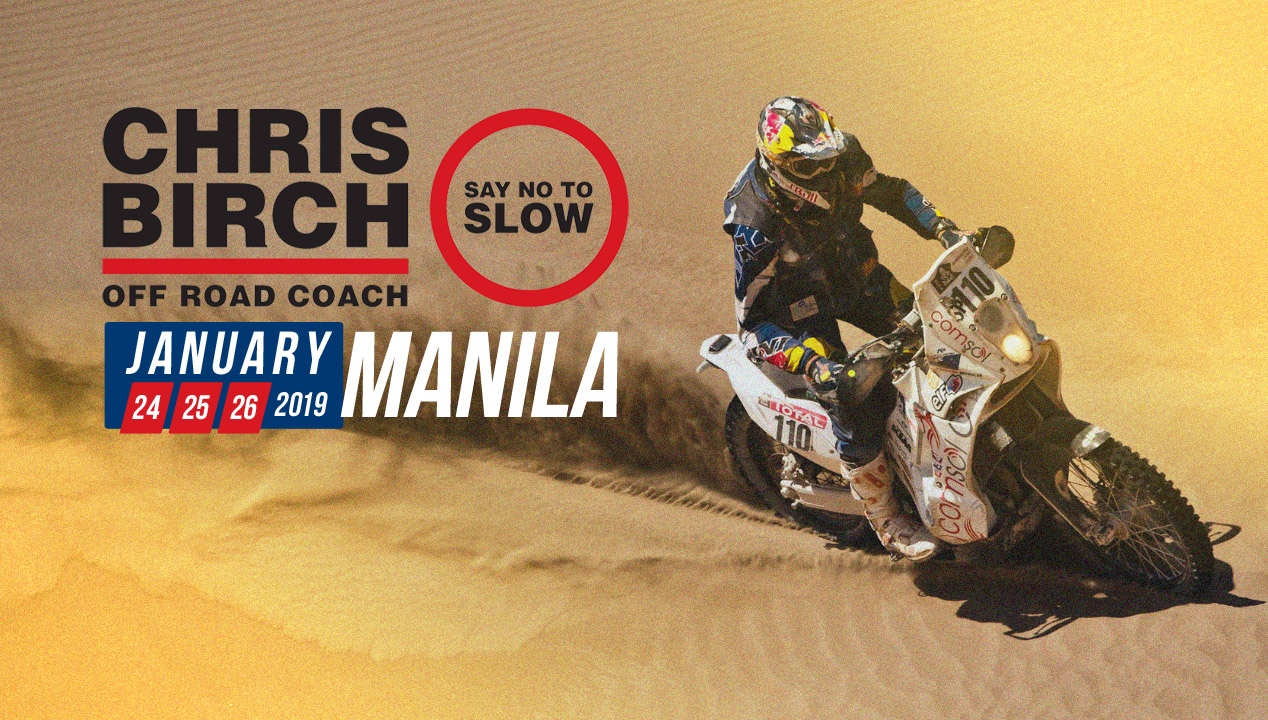 Chris Birch Coaching clinics are aimed at improving off road riding skills. Chris focuses on helping his clients get the most out of their riding – whether this is to improve performance and placing in competition, to beat their mates, or simply to get the most enjoyment from the weekend's riding. Chris has spent his whole life riding and racing motorbikes in many disciplines and has picked up tips, tricks, shortcuts and handy hints that you only get from experience. When you are being coached by Chris, it's a fantastic opportunity to pick his brains about any riding or bike setup problems you have.
COACHING CLINICS
Adventure basics – This includes setting up your bike correctly, correct, strong and balanced riding positions, and using the clutch, throttle and brakes effectively for maximum control. Also covered are things such as packing for an adventure ride, and survival/self rescue techniques.
Adventure cornering clinic – "Learn to turn" – This is one aspect that  many people are interested in, and there is now  a separate session developed so that riders can really have the best chance to nail this skill down. Bering able to corner well can make a vast difference to your traction and speed!
Advanced adventure clinic – This is for those who are really wanting to take their bikes into the true off-road world of riding. It covers things such as hills, ruts, river crossings, jumping, drifting – really treating your bikes as a 'dirt bike'. It is recommended that you have completed the other courses previously, or another course with Chris, however, please get in touch with them to discuss your riding history and goals so they can confirm you for this course.
Clinic Venues in the Philippines
Mitas-KRB Off-road Track (Manila) – Dates: January 24, 25, and 26, 2019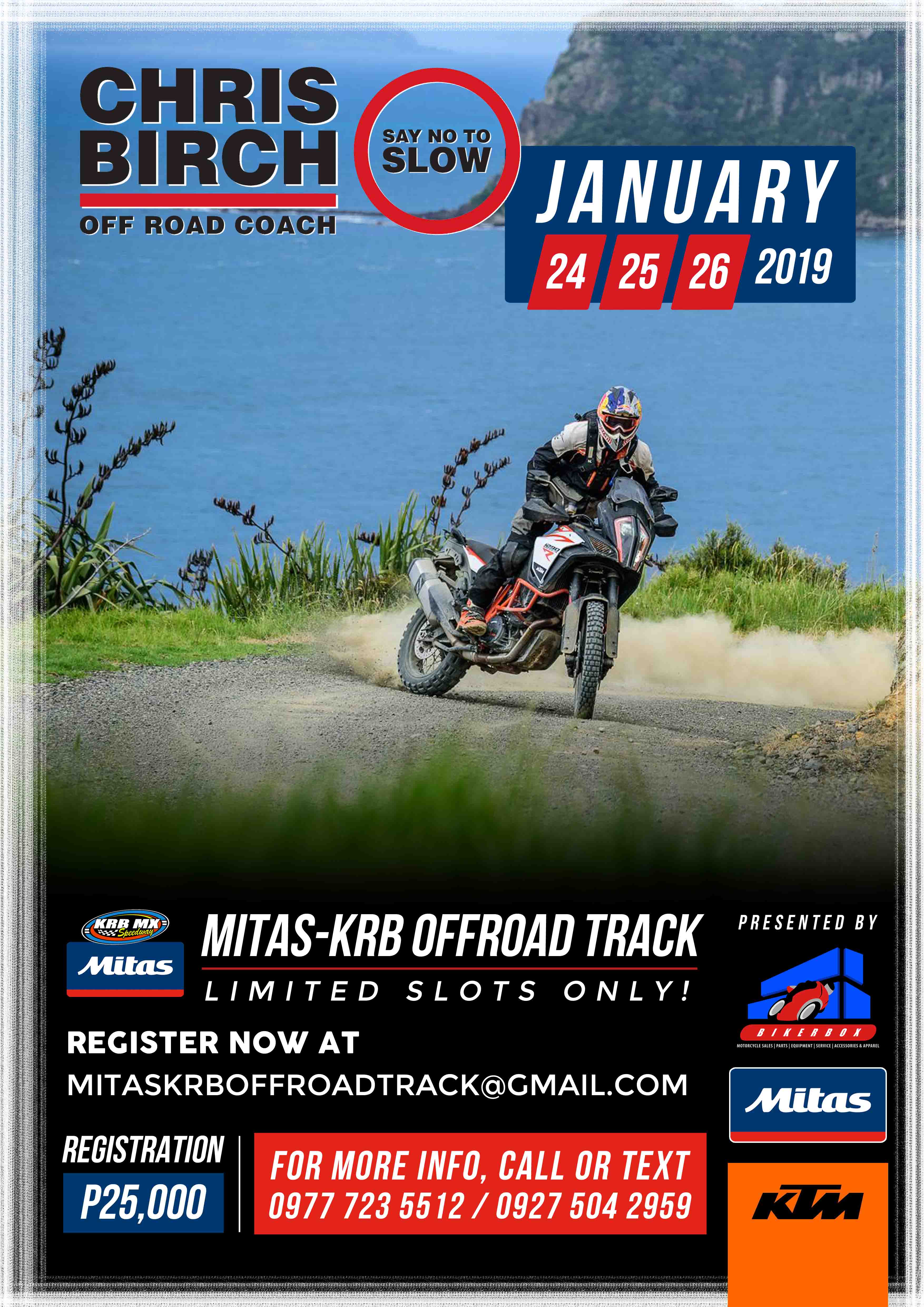 Sports and recreation venue for overall off-road training and education facility developed by Bikerbox Inc. – Mitas Tyres Philippines. Poised to become a flagship center for all around off-road Activities. A partnership between Mitas Tyres Philippines and KRB for ongoing development centered for education and events venue. A 36-hectare off-road park training and play for flat track, enduro, mountain bikes, ATV and 4×4 off-road, situated along Marilaque Hi-way. Address: 1627 Sitio Puting Bato, Brgy. Inarawan, Antipolo City.
Total Clinic Fee: P25,000
50% non refundable deposit to be paid to confirm slots. Remainder to be paid on or before
January 19, 2019.
Manila Clinic Sponsors: Bikerbox Inc., KTM Philippines, Mitas Tyres Philippines, Oakley Philippines and Dan's
Mitas-Mindanao Enduro Park (Mindanao/Cagayan De Oro) – Dates: January 28 and 29, 2019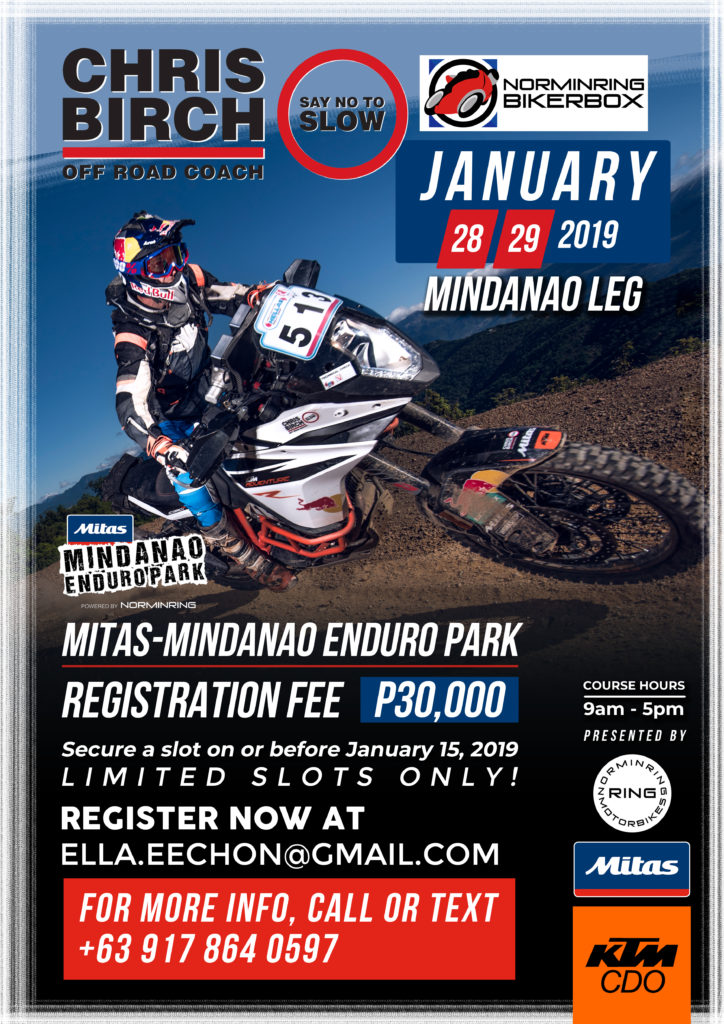 Sports and Recreation Venue for overall off-road training and education facility developed by Norminring Motorbikes and Mitas Tyres Philippines. An MX heaven of natural off-road terrain with a 400m flat track course. Location: Brgy. Bagocboc, Municipality of Opol, Province of Misamis Oriental. Area: Built in a 27-hectare property. Features: Flat Track, Motocrosss, Enduro, & Trail.  Amenities: Clubhouse Camping Area. Goal: Promote Mindanao through Moto-Tourism.
Total Clinic Fee: P30, 000
Important notes and guidelines:
– Bring your own bike: ADV Motorcycle preferred for a full off-road clinic experience.
– Wear proper rated Helmets and Off-road Protection Gear (Elbows, Shoulders, Back, etc.).
– It is compulsory that you have proper, strong, off-road boots that provide sufficient ankle and foot protection for riding off-road. They should be proper off-road boots and must provide real support for your ankles and feet.
– The intention of this course is to increase your confidence and safety off-road. Appropriate tires are absolutely essential for this. If your tires are not appropriate YOU WILL NOT BE ABLE TO PARTICIPATE! Recommended tires are Mitas E09, E10, E07 or similar more off-road focused tires.
– Registration Fee covers  Breakfast, Lunch and Freebies.
– Slots of those not fully paid by January 19, 2019 will be given away to other participants in the waiting list.
– Fees are non-refundable. The clinic is time specific, giving advanced payment to the instructor.
For more info, please call or text  CBOC Hotlines
+63 917 6200517
+63 927 5042959
+63 977 7235512
mitaskrboffroadtrack@gmail.com