Yamaha Introduces Philippine Race Team
Date posted on May 3, 2016
Share this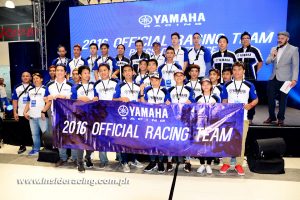 Yamaha Motor Philippines, Inc. introduced its 2016 racing team to the country in roaring fashion. The YZone became a pseudo starting line for the group that is ready to state the excellence on the tracks. Motorsports and Safety Promotion Head, Jordan Cornista explained Yamaha's ultimate goal of making it to the MotoGP through a series of competitions that will develop the riders and make them competitive on the global level.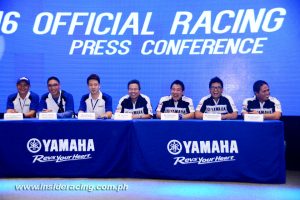 The Yamaha Satellite riders are Victor Laude, Paul Mark Doblada, Herbert Lopez, Arlan Dela Cruz and Clifford Bacus.
The Racing teams are Yamaha Spec V Racing Team managed by Mr. Charlie Ong, Yamaha MW-323 Racing Team managed by Mr. Neil Labrador and Phoenix Yamaha KOSO Racing Team managed by Mr. Melencio Aquino and Ms. Astrid Vislenio.
Yamaha believes in the homegrown talent that is here in the Philippines and will continue to develop local riders in the present and invest in the future ones. This campaign aims to take the passion of riders here in the country to another level, to reach a dream that remains elusive yet possible; only time will tell when the world will witness the greatness of the Filipino Rider.
Words by: YMPH