Yamaha Take World Endurance Championship Lead after Suzuka 8 Hours
Date posted on July 28, 2014
Share this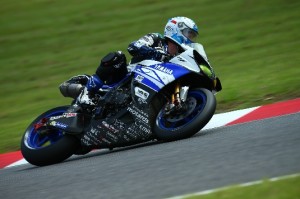 Release by  www.yamaha-racing.com.

The Yamaha France GMT 94 Michelin Yamalube Team have today stepped into the lead of the FIM World Endurance Championship following the drama filled Suzuka 8 Hours race in Japan. The 37th edition of the race was tense from the off with the start delayed by heavy rains on the Suzuka circuit and then reduced to just under seven hours to comply with local restrictions.
GMT94's David Checa endured a less than perfect opening ride on his Yamaha YZF-R1, dropping three laps behind the lead in the first two hours before handing over to teammate Kenny Foray on a dry track in 27th position. Foray then began the hard work of regaining ground, and third rider Mathieu Gines was also on the pace, allowing the No.94 bike to cut through the pack and take a respectable ninth place at the line. The finish was enough to put the French team into the lead in the world standings as they return to Europe for the next round, the 8 Hours of Oschersleben on 23rd August.
The Monster Energy Yamaha Austria Racing Team's YSP No.07 bike finished the Suzuka race just off the podium in fourth position. Local hero and All Japan Superbike star Katsuyuki Nakasuga worked hard alongside Australian riders Broc Parkes and Joshua Brookes. Having started from 2nd the riders had lost several places due to a technical issue and were outside the top ten before climbing back up to try and challenge for the last spot on the podium. The last two hours saw them step closer and closer however after several safety car appearances for crashes not connected to them the team had to settle for fourth.
The second YART bike, No.7 made great progress from their qualifying position of 22nd. Riders Wayne Maxwell, Rick Olson and Tommy Bridewell put in a strong fight, rising 12 positions to bring their R1 home just behind the GMT bike in tenth position.
"We are now leading the World Endurance Championship and this is what we wanted, so the goal is reached. I'm also happy because I understood how to be fast on this difficult track. I had a lot of fun and I'm happy that the team enjoyed it as well."
"The start was so tough, I thought that I was going to crash at every corner of the race. I was so scared of not being able to bring the bike back. I'm happy that I didn't crash in the end! After this, the race was amazing. I found my good feelings back with the Yamaha and catching up with the others was exhilarating."
"I love Suzuka. I would like to thank the team who gave me the opportunity to get there. I learned a lot and now I'm looking forward to Oschersleben, that is a track that I like a lot also. For now, we can breathe and enjoy the fact that we took the lead of the Championship!"
Suzuka 8 Hours Final Results
1. 634 Musashi RT HARC-PRO 6:56'13.056
2. 34 Yoshimura Suzuki Shell ADVANCE 6:57'12.900
3. 17 Team Kagayama / Verity 6:56'16.132
4. 07 Monster Energy Yamaha YSP 6:57'49.072
9. 94 Yamaha Racing GMT94 Michelin 6:57'06.359
10. 7 Monster Energy Yamaha YART 6:57'13.151
FIM World Endurance Championship Standings
1 Yamaha France GMT 94 Michelin 94 FRA Yamaha YZF-R1 62
2 SRC Kawasaki 11 FRA Kawasaki ZX10R 55
3 Team Bolliger Switzerland 8 SUI Kawasaki ZX10R 45
4 Musashi RT Harc Pro 634 JPN Honda CBR1000RR 35
5 Team Motors Events April Moto 50 FRA Suzuki GSX-R1000 35
6 National Motos 55 FRA Honda CBR1000RR 32
7 Yoshimura Suzuki Shell Advance 34 JPN Suzuki GSX-R1000 29
8 Team R2CL 2 FRA Suzuki GSX-R1000 26
9 Team Kagayama / Verity 17 JPN Suzuki GSX-R1000 25
10 Suzuki Endurance Racing Team 1 FRA Suzuki GSX-R1000 23
11 Monster Energy Yamaha with YSP 07 JPN Yamaha YZF-R1 21
20 Monster Energy Yamaha YART 7 AUT Yamaha YZF-R1 11
See also