YOSHIMURA & KAGAYAMA SUZUKIS ON SUZUKA PODIUM
Date posted on July 28, 2014
Share this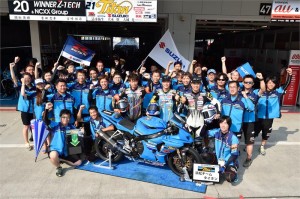 Team Suzuki Press Office – July 27. 

Yoshimura Suzuki and Team Kagayama raced their GSX-R1000s to second and third places at today's drama-packed Suzuka 8-Hour World Endurance Championship second round at Suzuka in Japan.
The #34 Yoshimura Suzuki Shell Advance team of Takuya Tsuda, Randy De Puniet and Josh Waters closed to within 60 seconds of victory in a delayed 37th running of the Coca-Cola Zero-sponsored event that was plagued by intermittent rain, forcing extra pit stops to change tyres; along with several Safety Car situations following crashes.
In what was a mirror of the 2013 Suzuka 8-Hour podium, Team Kagayama – Nori Haga, Yukio Kagayama and young Swiss newcomer Dominique Aegerter – finished a lap behind Yoshimura Suzuki and winners Musashi Harc-Pro's Takumi Takahashi, Leon Haslam and Michael Van Der Mark; the top-two teams on the same number of 172 laps.
In the 'Sprint Start,' Aegerter led Tsuda with the #12 Legend of Yoshimura team rider Nobuatsu Aoki fourth. Aoki, who was teamed with former World 500cc Champion Kevin Schwantz and former All Japan Superbike Champion Satoshi Tsujimoto, caught-up with Tsuda on lap six to challenge for second place, but crashed-out heavily as he tried to go inside to make a pass, ending the team's Suzuka challenge early.
Tsuda too suffered a crash two laps later, but remounted to start a climb back through the field and into fourth position, as reigning World Endurance Champions SERT – with Erwan Nigon taking the first rider stint – circulating in 14th initially before eventually climbing to eighth place at the flag; and the best of the permanent EWC teams in the race. Nigon pitted on lap 24 as the track dried-out and slicks were fitted. The other Suzuki teams came in a lap later.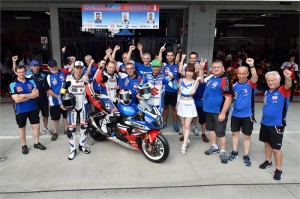 With Kagayama in the seat, the Team Kagayama GSX-R1000 was back-up to fourth position by lap 34 – after slipping back to seventh – and then after a pit-stop to change tyres, climbed into second place. SERT also pitted for different tyres as rain fell again, handing-over to Damian Cudlin, who put the team into ninth position during his stint.
De Puniet took over the Yoshimura Suzuki on lap 76 and the Frenchman got up into second position – putting in the fastest lap of the race to that point of 2'09.426 as the conditions dried again – but the following laps saw the Safety Car out following crashes; including early leaders TSR Honda, allowing the pack to bunch-up again.
The closing stages also saw more drama with crashes and Safety Car situations – one lasting 18 minutes – then as Waters took his last stint on the Yoshimura Suzuki GSX-R as night fell, there was an issue with the headlight not working; which would have caused the team to be excluded. However crisis was averted as the headlight finally switched on and Waters tried his hardest to hunt-down new race leaders Musashi Harc-Pro in the final laps, closing the gap to 59.844 seconds.
Josh Waters: 
"It was really crazy weather conditions; sunny and then heavy rain. It was totally unpredictable throughout the race, lots of Safety Cars but I am sure we did our best today."
Randy De Puniet: 
"It was really difficult conditions today; but this is my first time racing at the Suzuka 8-Hours and it's been a very good experience. My team-mates and the Yoshimura team staff all did their best and kept the battle going until the finish line. It is really a precious experience for me and I hope to be back here next year to race again."
Takuya Tsuda: 
"I know we all did our best but I'm not satisfied with the result. I will do my best again though next year to win."
Yukio Kagayama: 
"I am really happy with the great support from the fans we've had today and I would like to say thank you to the organisers for all their hard work and arrangement of safety cars to keep a high-level of safety for the sport. I planned to take Noriyuki (Haga) to the podium and Dominique did a great job his first race here, and I'm pleased we invited him to join us. Thanks also to our great staff!"
Noriyuki Haga: 
"Before the race, I was told I'd only race one stint, so was a little disappointed, but it meant I could fully concentrate on my stint. I am very happy with my team mates' effort and that we got the podium. The atmosphere in the team is very nice, I really enjoyed it, so thanks to everyone."
Dominique Aegerter: 
"This is my first race at Suzuka and I have learnt a lot. Despite the delay, wet conditions, dry conditions, pits stops; it all good experience for me and I hope I can come back again to ride with the team."
Anthony Delhalle: 
"The Suzuka 8-Hour was unusual with the weather conditions and the tyre choices, but our team has a lot of experience, so it was ok. The race was good and the GSX-R was perfect, but I'm not satisfied with eighth as we wanted to win or finish on the podium. But it's difficult at Suzuka as there's lots of the Japanese factory riders who have a lot of experience here. But a top-10 finish is not so bad."
Erwan Nigon: 
"The start was little bit strange, but the GSX-R was good and I was confident with the settings we'd found in practice. Our team has confidence in us and has a lot of experience in various weather conditions, so we could keep a good consistent pace."
Damian Cudlin:

"This has been a very good experience for me to be in this world championship team. It's my first race for the team and I've gained a lot more confidence with the bike and the team and got faster, so if they need me again, I am ready."
Suzuka 8-Hour Results: 1 MuSASHI RT HARC-PRO (Honda) 172 laps, 2 YOSHIMURA SUZUKI Shell ADVANCE (Suzuki GSX-R1000) – Takuya Tsuda, Randy De Puniet, Josh Waters – 172, 3 TEAM KAGAYAMA and Verity (Suzuki GSX-R1000) – Dominique Aegerter, Noriyuki Haga Yukio Kagayama – 171, 4 Monster Energy Yamaha (Yamaha) 171, 5 TOHO Racing with MORIWAKI (Honda) 170, 6 Honda Suzuka Racing Team (Honda) 170, 7 Honda Team Asia (Honda) 169, 8 SERT (Suzuki GSX-R1000) – Anthony Delhalle, Erwan Nigon, Damian Cudlin – 169, 9 Yamaha Racing GMT94 Michelin (Yamaha) 168, 10 Monster Energy Yamaha (Yamaha) 168
See also