You can Now Buy Honda Parts from Triumph JT Via Facebook
Date posted on May 10, 2020
Share this
Triumph JT Marketing Corporation is a long established trusted dealer of motorcycles, motorcycle parts and other products for riders.
The company has announced that basic parts for Honda motorcycles can now be purchased through their facebook page.
Triumph JT will only process orders that are paid. Buyers are required to send their proof of payment for Triumph JT to confirm. Once your order is confirmed, Triumph JT will send you your schedule for pick up or delivery. Buyers will be responsible for shipping costs and item liabilities if booked with third party couriers.
Pick up and delivery schedule:
Caloocan: Monday, Wednesday, and Friday (10 am – 12 pm)
Address: 311 Rizal Avenue Extension Bet. 8th & 9th Grace Park, Caloocan City
West Avenue: Monday, Wednesday, and Friday (2 pm – 5 pm)
Address: 136 West Avenue, Quezon City
Here are the steps to order: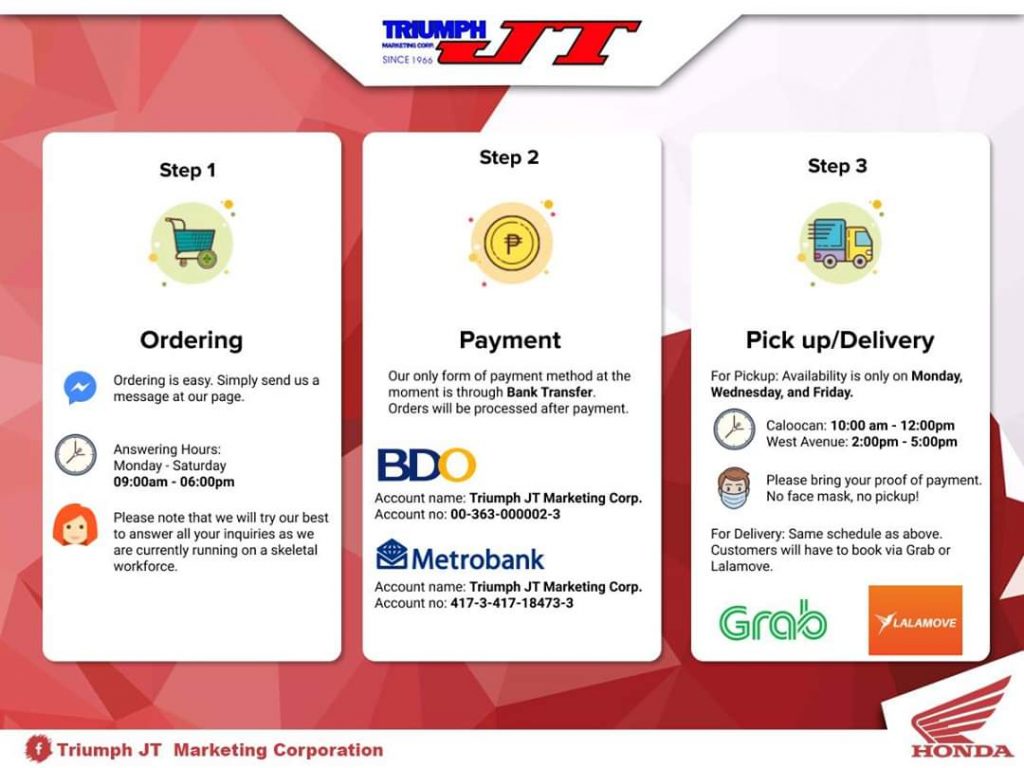 https://m.facebook.com/story.php?story_fbid=2964492536978656&id=552401291521138
Triumph JT is the biggest dealer of genuine Honda motorcycle parts and accessories in the country for the longest time.