ZEBRA Helmets Pole Position Award
Date posted on November 19, 2012
Share this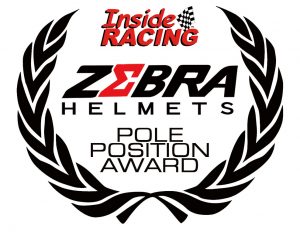 The "ZEBRA Helmet Pole Position Award" will be given to whoever qualifies the fastest in their respective racing classes during Saturday's Qualifying sessions. It will be awarded to the fastest rider who can lap the Carmona Race Track in the shortest possible time in their class. This will require the riders' full concentration and their machines to be at their best condition.
The "ZEBRA Helmet Pole Position Award" creates a separate goal that the riders will aim for during Qualifying sessions. A Special Trophy and an additional Cash Prize of P5,000 awaits the winner. The seven winners will be awarded separately in the Podium before the first race on Sunday.
The "Motolite InsideRACING Grand Prix" is the biggest annual year-end tradition for the country's motorcycle road racing fans as it aims to provide a "GP" style race event to the local racers and teams. It is a prestigious annual event where top local racing teams and riders participate. It is sanctioned by the Underbone and Scooter Racing association (USRA).
BONTANTEN CORPORATION is the exclusive distributor of Zebra Helmets. The company just started last October 10, 2011. Zebra Helmets was introduced in the market during the 6th Annual InsideRACING Bike Festival and Trade Show held at the SMX Convention Center last march. Their main objective is to put up a great variety of quality helmets at very affordable prices.
And now, Zebra Helmets is more visible not only in the market but also in racing and motorcycle events by sponsoring the 1st SK Grand Prix, 3rd Motorsiklo Xklusibo Anniversary and by supporting Team Salbahe as representative in race events like the UBK, IR Cup, Repsol Road Race and the 6th Annual Inside RACING Grand Prix.  Zebra Helmets is proud to be a part of the biggest motorcycle race event