IR FEATURE: MY SUZUKI STORY: FRANCIS GERARD TUVILLA & HIS GIXXER
Date posted on December 28, 2015
Share this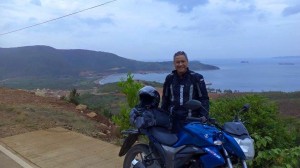 I am Francis Gerard Yulo Tuvilla, 56 years old. I started riding motorcycles since I was 8 years old. After 40 years of riding, I was forced to stop in January 2007 due to 4 heart attacks and 4 cardiac arrests before my emergency heart bypass.
By God's grace, I survived without any physical anomalies and my passion for motorcycles brought me back to riding in August 2014.
I rode a Suzuki Gixxer 150 on our Visayas-Mindanao Ride, 2nd Stage which started on September 22, 2015 and finished on October 1 after 10 days and 9 nights, 9 Regions, 20 Provinces and 2,556.0 kms.
I am the 1st buyer of the newly launched Suzuki Gixxer 150 in Negros Occidental when it arrived in Bacolod Eversure Marketing, Inc. on September 8. I needed a simple bike that will blend with majority of the riding public in Mindanao. Upon seeing in the internet that the Suzuki Gixxer 150 was launched in the Philippines and after reading the specifications and reviews of it I knew that this is the bike that I need.
I started our Visayas-Mindanao ride from my hometown in Hinigaran, Negros Occidental to Bacolod City on September 20.
Day 1 & 2 – 450.5 kms. (Bacolod City-Escalante City-RORO-Tabuelan, Cebu-Cebu City-RORO-Hilongos, Leyte-San Ricardo, Southern Leyte-RORO-Surigao City, Surigao del Norte-RORO-Siargao Island)
My riding buddy, Reuben Ledesma and I left Bacolod on September 22 at 5:00am for Escalante to take a RORO for Tabuelan. Loading and unloading the Gixxer on the RORO proved very easy because of the lightness and nimbleness of the bike.
Upon reaching Surigao City I filled up my fuel tank for the 1st time since I left Hinigaran and was happy that the Gixxer delivered a very good 48 kms/liter fuel consumption. We arrived in Siargao Island around 4:00pm and rode immediately to San Isidro at the home of Charles and Alice Karlsfeld for a bed and breakfast accommodation.
Day 3 & 4 – 385.2 kms. (Siargao Island)
We toured and crisscrossed the Island and witnessed the opening of the International Surfing Competition.
Day 5 -199.8 kms (Siargao-RORO-Surigao City- Tandag City, Surigao del Sur)
I went back to Surigao City, while Reuben stayed in Siargao, to meet up with another riding buddy, Jorge Ledesma, who arrived from Cebu City where he is from and together we started our Mindanao ride.
On the way to Surigao del Sur the Gixxer's long stroke engine performed well in going up the mountains of Claver. When we arrived in Tandag I had my 1st Free Service for 1000 kms and Change Oil at RHEAN Cycle Mart. We stayed in Shacene Inn for the night.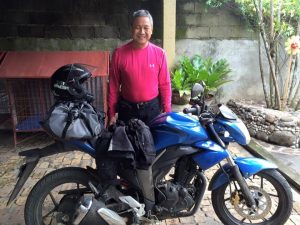 Day 6 – 481.2 kms (Tandag-Aliwagwag Falls, Cateel, Davao Oriental-Compostela Valley (Comval)-Tagum, Davao del Norte-Davao City, Davao del Sur)
From Aliwagwag Falls we decided not to go to Mati City anymore and to proceed instead to Davao City via Comval. Unfortunately, the road in the mountains of Comval was unpaved. And because it was 3:00pm already we had to ride fast. The Gixxer's big diameter 41 mm front fork showed it could handle and absorb the rough roads very well, like a street scrambler motorcycle. We arrived in Davao City at around 7:00pm and checked-in at the Viajeros Economy Inn.
Day 7 – 365.6 kms. (Davao City-Digos City-GenSan City, Saranggani-Koronadal City, South Cotabato)
We had lunch in Korondal and then we rode to Lake Sebu for sightseeing. I had the chance to test the top speed of the Gixxer in the 30 km stretch from Koronadal to Surallah. It registered 119 kms/hr and which is fast for a 155cc bike. After our sightseeing we were advised not toproceed to Isulan City, Sultan Kudarat as it was late already. So we went back to Koronadal and spent the night in Greenstate Suites.
Day 8 – 368.9 kms (Koronadal-Tacurong City, Sultan Kudarat-Pigkawayan, North Cotabato-Matanog, Maguindanao-Picong, Lanao del Sur-Kolambugan Port, Lanao del Norte-RORO-Ozamis City, Misamis Occidental)
We left Koronadal at 5:00am because we wanted to be out of the ARMM region (Maguindanao and Lanao del Sur) as early as possible. We were stranded in Pikit, North Cotabato because it was their fiesta and we had to follow the parade. But the Gixxer's engine did not overheat in the slow and stop and go traffic. Upon reaching the boundary of Maguindanao and Lanao del Sur we rested along the road where there was an eatery. We had coffee and tried their rice with chicken on it wrapped in banana leaves. We talked with the residents and had picture taking with them before we left. We had late lunch in Kapatagan, Lanao del Norte and arrived in Kolambugan Port around 4:00pm for a RORO to Ozamis City. Upon arrival in Ozamis we checked-in at the GV Hotels.
Day 9 – 134.1 kms. (Ozamis-Dapitan, Zamboanga del Norte-RORO-Dumaguete City, Negros Oriental)
We started from Ozamis at 6:00am. We stopped for breakfast in Oroquieta City, Misamis Occidental. I enjoyed the twisty road to Dapitan because I had the chance to try the good handling of the Gixxer especially because of the wide and grippy tires. We arrived in Dapitan at 9:00am but had to wait for the RORO at 4:00pm for Cebu City that will stopover in Dumaguete because Jorge will proceed to Cebu while I will go down in Dumaguete. I arrived in Dumaguete at 10:00pm and checked-in at the Gazebo Pensionne House.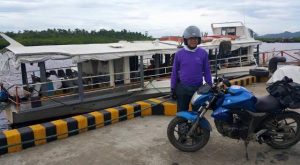 Day 10 -170.5 kms. (Dumaguete to Hinigaran , Negros Occidental)
I left Dumaguete around 8:00am after breakfast in the pension house. But near the boundary of Negros Oriental and Negros Occidental in Mabinay it rained hard. I just stopped to put on my rain gear and continued to ride. There it was proven that the waterproofing of the electrical system of the Gixxer was excellent. Before noon time I was Home Sweet Home already in Hinigaran. I am looking forward to use this Suzuki Gixxer motorcycle on our Visayas – Luzon Ride, 2nd Stage on January 2016.
Here are the Regions and their Provinces that we traversed in the order of our route:
*NEGROS ISLAND -Negros Occidental *CENTRAL VISAYAS -Cebu *EASTERN VISAYAS -Leyte -Southern Leyte *CARAGA -Surigao del Norte -Surigao del Sur *DAVAO -Davao Oriental -Compostela Valley -Davao del Norte -Davao del Sur *SOCCSKSARGEN -Saranggani -South Cotabato -Sultan Kudarat -North Cotabato *ARMM -Maguindanao -Lanao del Sur *NORTHERN MINDANAO -Lanao del Norte -Misamis Occidental *ZAMBOANGA PENINSULA -Zamboanga del Norte *NEGROS ISLAND -Negros Oriental
Thank you very much for all your prayers, best wishes and moral support! May God bless us all! Mabuhay ang Pilipinas!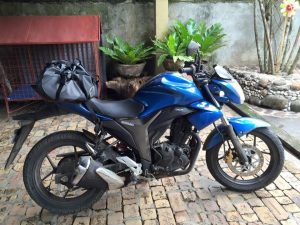 Credit: Suzuki Philippines