New Versys 1000 SE Launched By Kawasaki
Date posted on January 24, 2020
Share this
One of the highlights of the Motorcycle City-Kawasaki Krib opening in Commonwealth, Quezon City was the introduction of the new Kawasaki Versys 1000 SE.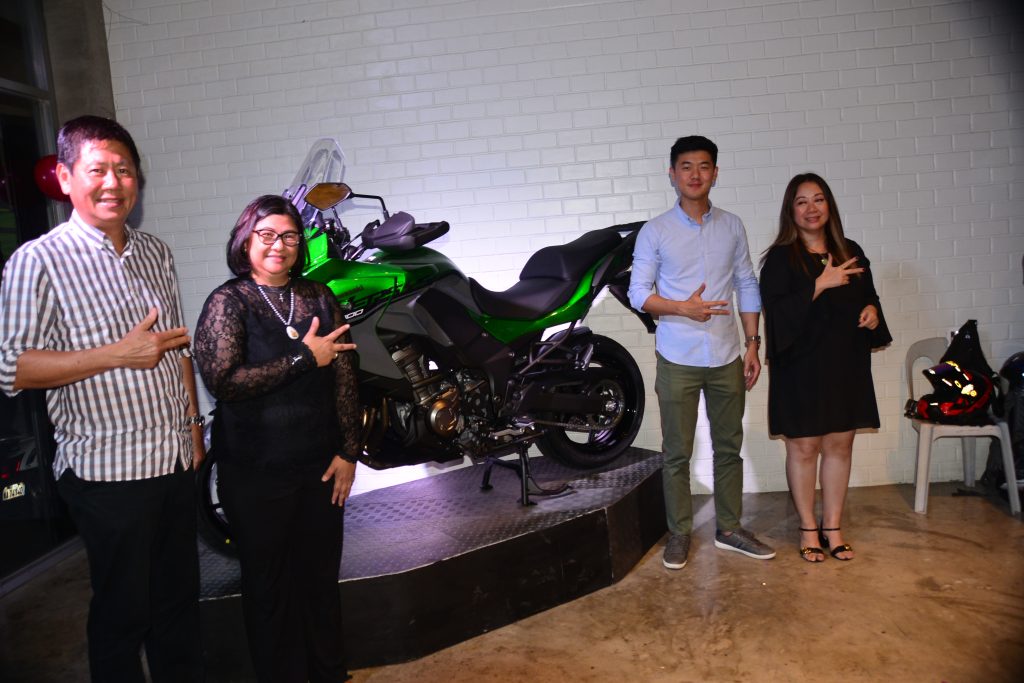 Engine
Exciting In-Line Four Engine – A key to the Versys 1000's fun factor, the exciting engine delivers more than just performance figures. The 1, 043 cm3 In-line Four, tuned for flexibility, offers superb throttle response, strong torque at all rpm (especially in the low-mid range), and a seductive intake howl – ensuring riders are treated to a physically and aurally exhilarating sensation with every twist of the throttle. A change to Electronic Throttle Valves for 2019 enables the addition of Electronic Cruise Control, while also contributing to smooth power delivery.

Electronic Throttle Valves – Electronic Throttle Valves enable the ECU to control the volume of both the fuel (via fuel injectors) and the air (via throttle valves) delivered to the engine. Ideal fuel injection and throttle valve position results in smooth, natural engine response and the ideal engine output.

Assist & Slipper Clutch – Race-inspired clutch technology offers both a back-torque limiting function as well as a very light feel at the lever.

Chassis and Ergonomics
Adjustable Windscreen – Complementing the increased wind protection offered by the Versys 1000's new front cowl and wider shrouds, the steplessly adjustable windscreen can be tailored to rider preference, contributing to comfortable highway cruising. Windscreen height can now be easily adjusted from the rider's seat.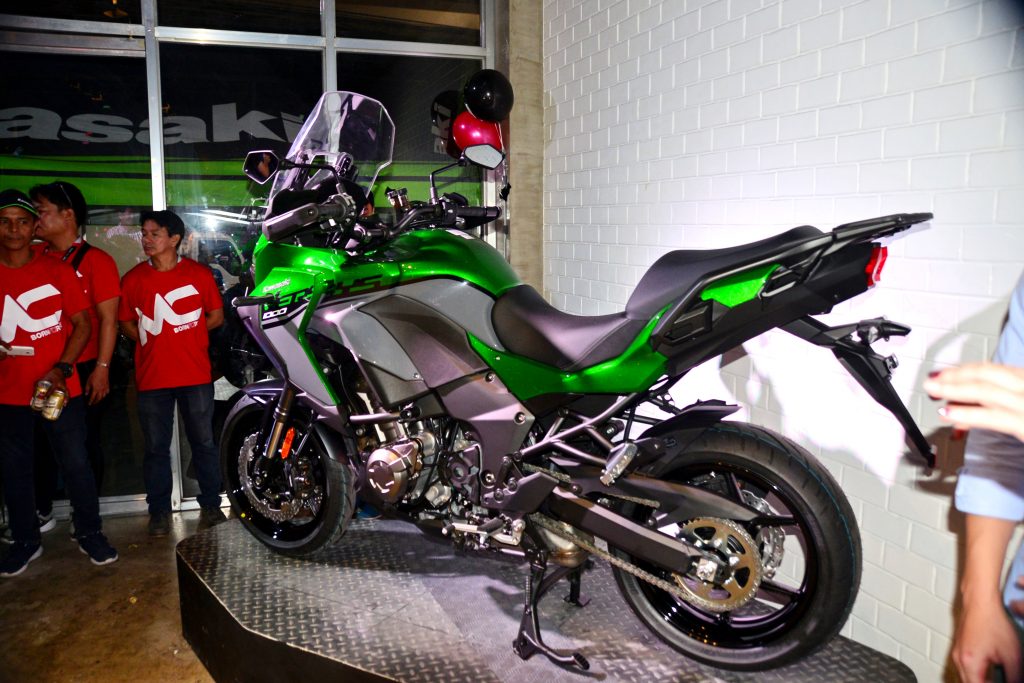 Upright Riding Position – Spacious, upright riding position offers a high level of machine control in various conditions while contributing to rider comfort.
Brakes and Suspension
Radial-Mount Front Brake Calipers – The 310 mm front petal discs are now gripped by highly rigid radial-mount monobloc callipers complemented by a radial-pump front brake master cylinder, contributing to superb feel and formidable stopping power.

Long-Travel Suspension + Sporty 17" Wheels = Fun Sport Riding on a Variety of Streets/Conditions – Because real world riding occurs on streets that are often less than circuit smooth – road imperfections (bumps, potholes) are far from rare, and some streets are not even paved (cobblestone, etc.) – Kawasaki engineers chose long-travel suspension to enable riders to carve corners with aplomb. While not designed for off-road use, the long-travel suspension's ability to cope with less-than-perfect street conditions allows the Versys 1000 to remain composed where bikes with stiffer, sportier setups would require backing off the throttle. Lightweight 17" wheels front and rear contribute to quick, sporty handling.
Other Features and Electronics
KCMF (Kawasaki Cornering Management Function): IMU-Equipped Total Engine and Chassis Management Package – Using the latest evolution of Kawasaki's advanced modelling software and feedback from a compact Bosch IMU (Inertial Measurement Unit), KCMF monitors engine and chassis parameters throughout the corner – from entry, through the apex, to corner exit – modulating brake force and engine power to facilitate smooth transition from acceleration to braking and back again, and to assist riders in tracing their intended line through the corner. On the Versys 1000, KCMF oversees the following systems: KECS-KIBS (including pitching management and corner braking management)

KTRC (Kawasaki Traction Control) – Three modes cover a wide range of riding condition , offering either enhanced sport riding performance of the peace of mind under certain conditions to negotiate slippery surfaces with confidence.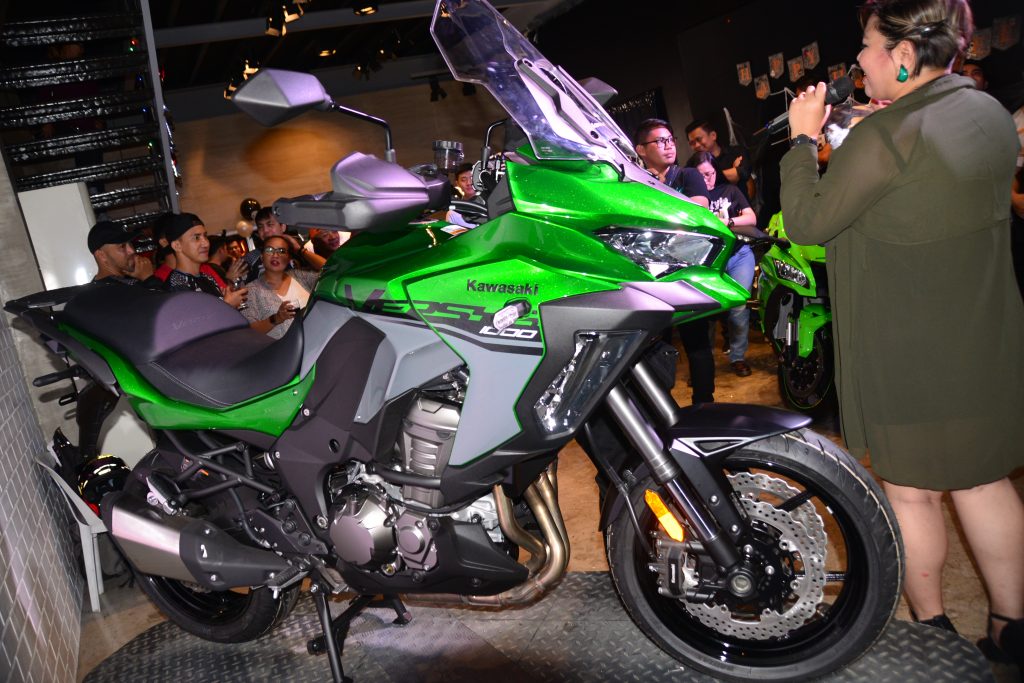 Supersport-grade High-precision Brake Management: KIBS (Kawasaki Intelligent Anti-lock Brake System) – Kawasaki's supersport-grade high-
precision brake management system is now standard equipment on the Versys 1000.
This is the same base system used on the Ninja ZX-10R, with programming and settings revised to suit the street performance parameters and long-travel suspension of the Versys 1000.
KECS (Kawasaki Electronic Control Suspension) (SE) – Based on the semi-active system that debuted on the 2018 Ninja ZX-10R SE, KECS adapts to road and riding conditions in real-time, providing the ideal amount of damping called for.

Combining high-level mechanical components with the latest electronic control technology, KECS offers both the suppleness to offer riding in a wide range of riding situations, as well as the firm damping to facilitate sport riding. The tyres feel planted, delivering confidence when cornering. On the Versys 1000 SE, KECS also includes electronically adjustable rear preload. Riders can choose from three payload modes (each with +5/-5 adjustment): Rider only, Rider with luggage, Rider with passenger and luggage.
Power Mode Selection – Riders can choose from Full Power or Low Power Mode
Integrated Riding Modes (SE): Sport, Road, Rain, Rider (manual)
All inclusive modes that link KTRC, Power Mode and KECS allow riders to efficiently set traction control, power delivery and suspension character to suit a given riding situation.

KQS (Kawasaki Quick Shifter) (SE) – Complementing the Versys 1000's exhilarating engine character, the quick shifter enables clutchless upshifts and downshifts for seamless acceleration and quick and easy deceleration.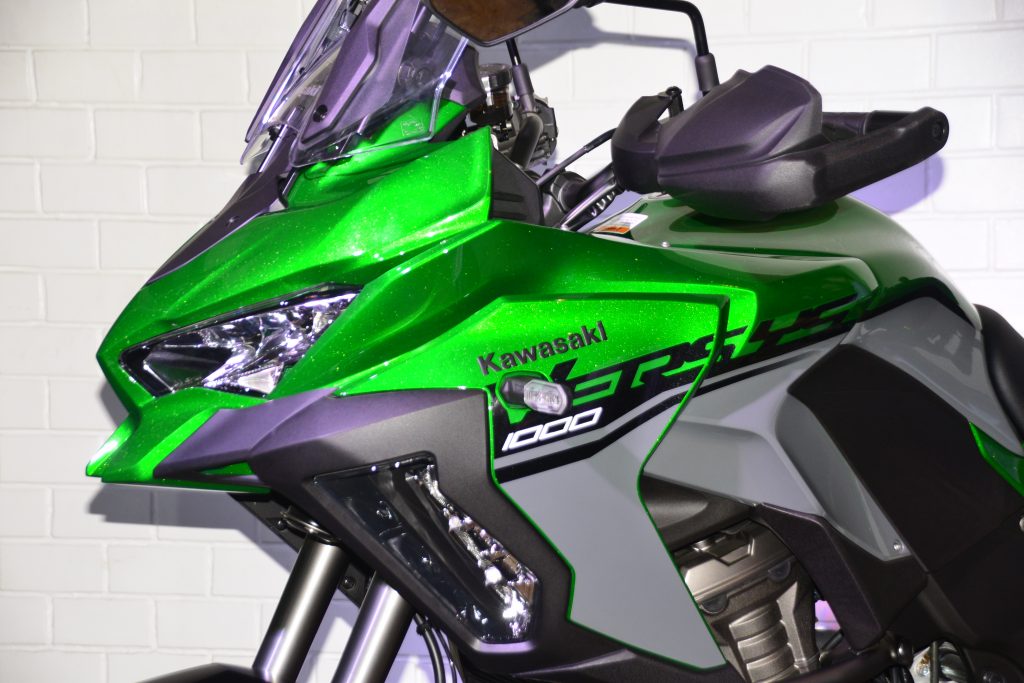 Electronic Cruise Control – Kawasaki's cruise control system allows a desired speed to be maintained with the simple press of a button. Once activated, the rider does not have to constantly apply the throttle. This reduces stress on the right hand when travelling long distances, enabling relaxed cruising and contributing to a high level of riding comfort.

LED Cornering Lights (SE) – Lights built into the shrouds help illuminate the road when cornering at night. Each of the three lights has a fixed direction and is activated based on lean angle. As the bike leans over, the lights come on in order, creating a wider illuminated path in the direction the bike is heading.

Smartphone Connectivity (SE) – A Bluetooth chip built into the instrument panel enables riders to connect to their motorcycle wirelessly. Using the smartphone application "RIDEOLOGY THE APP," a number of instrument functions can be accesses, contributing to an enhanced motorcycling experience.
Engine Type: 4-stroke, In-Line Four Engine, DOHC, Liquid-Cooled
Displacement: 1043 cc
Max Power: 118.2 HP (88.2 kw) / 9000 rpm
Max Torque: 102 N.m (10.4 kgf.m) / 7500 rpm
Transmission: 6-speed
Curb Mass: 257 kgs
Fuel Capacity: 21 Liters
MSRP: PHP 900, 000
*This article was published in InsideRACING's Volume 17 Number 10 2019 issue.